Lightroom Tether PRO Plug-in Ver. 1.7.0 Released… and Now Free for Fujifilm GFX only!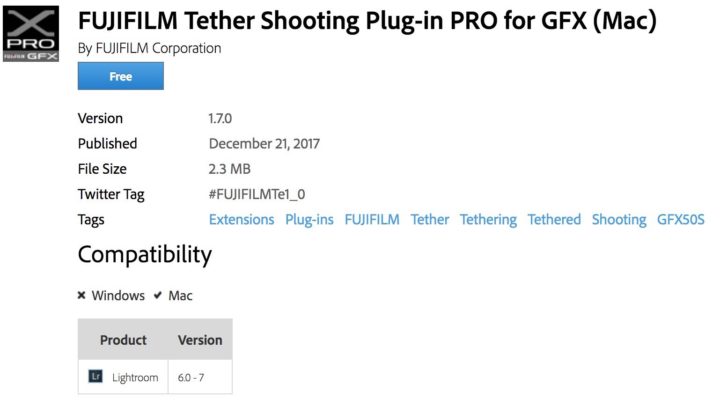 Fujifilm Tether Shooting Lightroom Plug-in

Adobe Lightroom just updated their Standard and PRO Fujifilm Tether Shooting plug-ins.
Interestingly, the PRO plug-in will be free for Fujifilm GFX, but not for Fujifilm X-T1 and X-T2.
Tether Shooting PRO Plug-in ver. 1.7.0:
Tether Shooting Plug-in ver. 1.7.0
** dedicated Fujifilm GFX facebook Page **
** Fujifilm GFX facebook user group **
Free X-Acquire Workaround
Keep in mind that Fujifilm offers its own Fujifilm X-Acquire software, which will allow you to tether every supported Fujifilm cameras for free. I share again a great youtube overview by Eivind Røhne down below.
The most recent X-Acquire review, that shows you how to tether your X-T2 for free, can be checked out at fotox.
You can download Fujifilm X-Acquire for Mac OS here and Windows here.
Tethering with Fujifilm X-T2 and the X Acquire software at Eivind Røhne youtube