Lensbaby Sol 45 f/3.5 Tilt-Shift Lens for Fujifilm X Cameras Available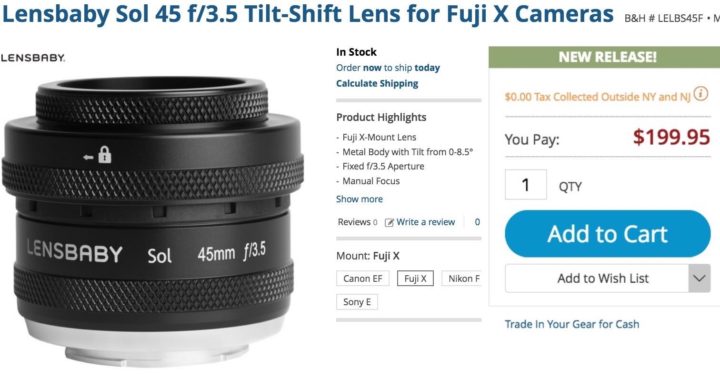 Lensbaby Sol 45 f/3.5 Tilt-Shift for Fujifilm X
Lensbaby just announced the Lensbaby Sol 45 f/3.5 Tilt-Shift for Fujifilm X with fixed f/3.5 aperture.
You can get it now at BHphoto.
Tilt shift lenses are arguably one of the top 3 lacks in the Fujifilm X mount line-up. The only other native X mount option I know for the X system is the Samyang T-S 24mm F3.5. I will let you decide if the lensbaby is an option for you. Check out the first look reviews down below:
There won't be a tilt-shift lack in the GF medium format lineup. We already leaked the complete "secret" Fujifilm GF roadmap in April 2017, and we have updated it since then, including the upcoming tilt-shift lens. The latest rumor here.
And make sure to check out our full overview on current and upcoming Fuji X mount lenses at our forum.