[UPDATED with X-E4]: Leaked Price, Press Release and Release Date of GFX100S, Fujifilm XF70-300mmF4-5.6, XF27mmF2.8 MKII, GF80mmF1.7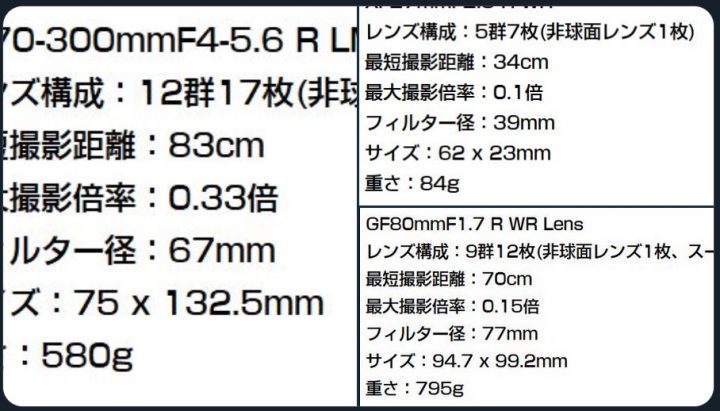 Nokishita leaked the price and additional specs for the upcoming Fujifilm gear:
The US price of the new Fujifilm lens will be $ 799 for the XF70-300mm, $ 399 for the XF27mm, and $ 2499 for the GF80mm. The planned domestic release date of GFX100S is the end of February 2021
UPDATED: "Fujifilm "X-E4" is also registered at domestic dealers. It seems that only the body and the XC15-45mm kit will be sold in Japan. The planned release date is the end of February 2021"
P.S.: I am now father of a wonderful little boy :)
Full Press Text
XF70-300mmF4-5.6 R LM OIS WR
レンズ構成:12群17枚(非球面レンズ1枚、EDレンズ2枚)
最短撮影距離:83cm
最大撮影倍率:0.33倍
フィルター径:67mm
サイズ:75 x 132.5mm
重さ:580g
Adaptable by Nature
XF70-300mmF4-5.6 R LM OIS WR is a versatile lens, designed for the true outdoor adventurer to document their exploration and appreciation of the world around them. This super telephoto zoom lens consists of 17 elements in 12 groups and boasts two ED elements, offering an equivalent focal range of 107-457mm, with a close focusing distance of 0.83m. With all this packed into one lens, XF70-300mmF4-5.6 R LM OIS WR makes it possible to frame everything, from the tiniest leaf and the mightiest mountain to the most distant glimpses of wildlife, all made in spectacular FUJIFILM color, with stunning image quality.
When the Unexpected Is the Only Guarantee
Unpredictability is the thing that makes an adventure so exciting, so in order to keep a compelling visual record, you need to be ready for the unexpected. At just 5.2 inches (132.5mm) long and weighing 580g, XF70-300mmF4-5.6 R LM OIS WR is extremely compact and lightweight for a telephoto zoom and its state-of-the-art autofocus uses a linear motor for near-silent operation and focusing precision. These features combine to ensure that documenting long days in the field is less about endurance and more about the experience.
Putting It All Within Reach
XF70-300mmF4-5.6 R LM OIS WR is compatible with the FUJINON XF1.4X TC WR and XF2X TC WR teleconverters, making it possible to achieve a maximum 35mm equivalent focal length of up to 914mm with only 2 stops of stop-loss. With such a potentially huge focal range in such a small and lightweight body, this remarkable lens opens up a new world of image-making opportunities. Whether you're an adventurer, a naturalist or you just like to be ready for anything, XF70-300mmF4-5.6 R LM OIS WR makes the joys of super telephoto accessible to all.
Appreciate the Finer Things
Conveying the true magic of an experience is as much about the details as it is about the bigger picture, so having the ability to frame them easily and effectively is essential. XF70-300mmF4-5.6 R LM OIS WR has a close focusing distance of 0.83m throughout the zoom range, making it possible to create tele macro images at a 0.33x maximum magnification. When this is combined with the lens' on-board Optical Image Stabilization (OIS) system that provides up to 5.5 stops of correction, you can be sure the finer details of your adventure will be crisp and in focus.
Built To Go the Distance
The toughest experiences often form the greatest stories. That's why XF70-300mmF4-5.6 R LM OIS WR has been built to endure the harshest conditions. This lens is dust- and moisture-resistant and can operate in temperatures as low as -10°C. Whether you're in search of penguins in the South Pacific or framing the dusty landscapes of Death Valley, XF70-300mmF4-5.6 R LM OIS WR will be with you on every step of your journey.
XF27mmF2.8 R WR
レンズ構成:5群7枚(非球面レンズ1枚)
最短撮影距離:34cm
最大撮影倍率:0.1倍
フィルター径:39mm
サイズ:62 x 23mm
重さ:84g
Take Complete Creative Control
Stay discreet and remain completely immersed in the moment with XF27mmF2.8 R WR's aperture ring, which lets you externally control your aperture, even when the camera is switched off. Not only does this feature ensure you're always ready to frame fleeting moments, but it also minimizes mistakes with a new aperture lock button to keep the ring locked into the A position when you're letting the camera do the work. Create with complete confidence with XF27mmF2.8 R WR at your side.
Create In Any Condition
With an extremely small and lightweight design, XF27mmF2.8 R WR is an ideal compact prime lens to carry at all times, just in case the perfect photo opportunity arises. That's why it has been equipped with extensive weather-resistance and the ability to operate in temperatures as low as -10°C. Regardless of where you are or what you're faced with, this lens is always ready to perform.
React In A Split Second
Framing a fraction of a second is no easy task, so ensuring your lens is able to react as quickly as you can is a must. With a coreless DC motor that moves the whole lens group, XF27mmF2.8 R WR is capable of extremely fast, precise, and near-silent autofocus. When combined with a wide F2.8 aperture, it creates high-quality images with gorgeous background blur, even when the light is low. All this ensures that you don't just frame the moment, you frame it beautifully.
Protect But Don't Prohibit
Lens hoods play an important role in photography. By blocking stray light from hitting the lens at oblique angles, they help prevent flare and other forms of interference. They also offer valuable protection for the front element from inadvertent bumps that can happen while you're immersed in creating an image. The included dome-style hood is small, compact, and finds the perfect balance between practicality and performance by minimizing uneven flash coverage or obstructions to the field of view that can occur when using larger hoods.
Professional Performance Within Reach
On top of so many fantastic and new features, XF27mmF2.8 R WR is even more affordable than its predecessor, making high-quality prime photography more accessible than ever. Whether you are an enthusiast taking your first steps with a prime lens, a budding street photographer looking for discreet performance, or a seasoned pro who wants a fantastic everyday option, XF27mmF2.8 R WR is a clear choice.
GF80mmF1.7 R WR Lens
レンズ構成:9群12枚(非球面レンズ1枚、スーパーEDレンズ2枚)
最短撮影距離:70cm
最大撮影倍率:0.15倍
フィルター径:77mm
サイズ:94.7 x 99.2mm
重さ:795g
A New Benchmark In Large Format Photography Lenses
Start creating freely with the elegance and style of large format digital and the world's fastest ever lens with autofocus (AF) for a medium or large format mirrorless digital camera system. GF80mmF1.7 R WR will help you create razor-sharp images in stunning, high resolution and give you absolute confidence that it will produce incredible results every time, even when the depth of field is shallow and the light levels are low.
A Recipe for Portrait Success
GF80mmF1.7 R WR's incredibly wide aperture works together with the GFX imaging sensor, which is almost twice as large as that of full-frame cameras, to provide an unparalleled level of image quality for anyone passionate about making portraits. The beautifully smooth bokeh produced by this combination creates an astounding separation between a subject and its background that results in truly mesmerizing and unforgettable images.
The Perfect Companion In the Studio and Beyond
Seamlessly step from the studio to an offsite location and be assured that GF80mmF1.7 R WR's compact design will be up to the task. At just 99.2mm long and weighing approximately 795g this lens will be sure to accompany you on plenty of excursions. Whether it's documenting fast-paced weddings or demanding days on location, enjoy the image quality of large-format digital with the freedom of mirrorless like never before.
Achieve Ultimate Quality
Designed to realize the full resolution of GFX imaging sensors GF80mmF1.7 R WR lens consistently delivers wide-open, edge-to-edge sharpness where you want it, while 9 rounded diaphragm blades ensure irresistible bokeh where you don't. Comprised of 12 elements in 9 groups, including one aspherical and two ED elements to ensure each pixel is perfectly resolved, FUJINON GF80mm F1.7 R WR lens upholds Fujifilm's reputation for creating precise and outstanding optics with incredible image quality.
Be Free To Pursue Perfection
Such a lightweight, compact, and portable design means you're going to want to take GF80mmF1.7 R WR everywhere. That's why it has been designed to withstand the toughest conditions. Its durable and rugged construction benefits from internal seals which provide dust- and weather-resistance that can operate in temperatures as low as -10°C. With the addition of a fluorine coating to the front lens element, which is water-, dust-, and dirt-repellent, you have a professional optic that is ready to frame perfection, nearly wherever you find it.
Follow FujiRumors on Patreon, Facebook, Instagram, RSS-feed, Youtube, Flipboard and Twitter
Join Our Owners Groups
Join Our Facebook Pages
via nokishita