Last Second Rumors: X-Pro2 for $/€ 1,799 :: X-E2 FW announcement on the 15th :: X70 maybe not €800 … and more!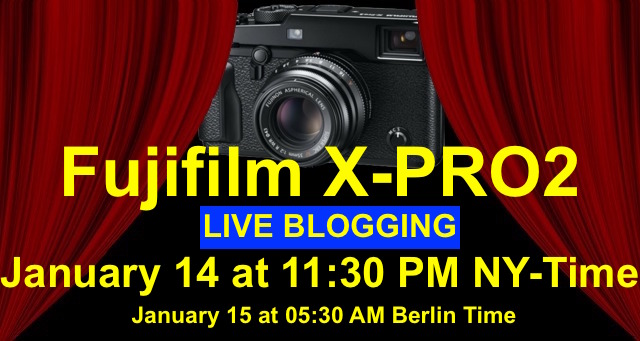 Sit down, lean back, and let me do the job on the 14th of January :)
I will collect everything worth to be shared in the for sure most challanging live blogging session I ever had here on FujiRumors, on January 14th at 23:30 PM New York Time. Just stay tuned on FR, refresh the page, and enjoy the latest updates about the X-Pro2, X70, X-E2s, XF100-400, the EF-X500 Flash and X-E2 FW 4.00.
In the last 2 months FujiRumors has shared over 60 rumor articles and even more specs & details about all the upcoming X-gear. It was truely a strenuous rumor-marathon… but an exctiting one, thanks to the amazing FR-sources and the FR-community! :-)
Now, I don't pretend all these specs/rumors to be 100% correct (I'm FujiRUMORS not FujiFACTS). Two or three rumors might not be 100% correct. So it's time for some last second clarifications/correction.
A source asked me to clarify that on the 15th of January Fujifilm will announce the X-E2 FW 4.00, and not release it (maybe it will come along with the X-T1 FW scheduled for late January?). I'm sorry if in the rumor marathon of these days, also written after a surgery and with high fever, I've maybe mistaken "announced" with "coming".
I've got a hint (thanks!) that the X70 price could be different to the one rumored here on FujiRumors (I said "around €800" here). Let's hope it will be cheaper.
I've told you that the X-Pro2 shipping could start on the 4th (see here). I believe the embargo is on the 4th, but now a new source told me it could eventually be the 5th of February. Anyway, everything is pointing towards a very early February shipping
That's it… about all the other 60+ rumors/specs I've shared in the last 2 months I don't change a single thing ;)
And here are some last second rumors:
X-Pro2 could cost $/€1799, which would fit with what rumored earlier here.
The X-E2s will have an "Auto" button instead an "Fn2" button like on the X-E2 – source: X-E2s video promo
P.S: I'm sorry if I couldn't answer to all of you in the comments directed to me. I was extremely busy behind the scenes with FR (and privately), and with several hundreds of comments a day on FujiRumors, I might have missed some of you asking me specific questions.
stay tuned

Fuji X Forum, Facebook, RSS-feed and Twitter