In a League of Its Own: Fujifilm GFX100 Thoughts and Specs Compared to Sony A7III vs Nikon Z7 vs Canon EOS 5DSr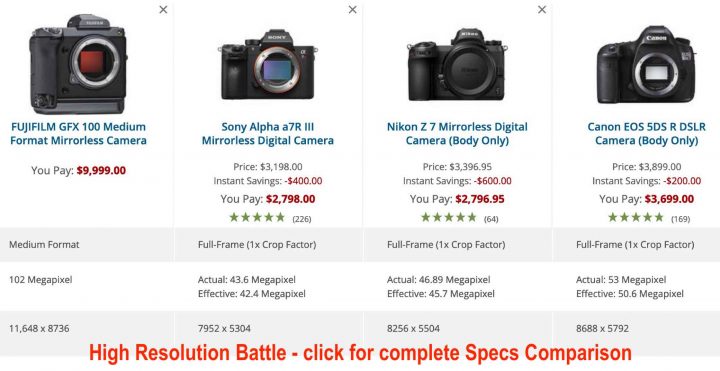 Fujifilm GFX100
The Fujifilm GFX100 just hit the world, and it did it impressively.
Medium format is no longer a studio or tripod slave, thanks to an impressive IBIS and snappy autofocus.
It's hard to compare the Fujifilm GFX100 to anything else currently on the market. The unique Fujifilm GFX100 plays in a league of its own!
And from what we have seen in our mega GFX100 live blog, I guess you'll agree with me, when I say that $9,999 is actually a fair price.
So let's compare the Fujiflm GFX100 to the following high resolution full frame cameras: Sony A7III, Nikon Z7 and Canon EOS 5Ds R, thanks to the specs uploaded at the BHphoto site.
BHphoto here: Complete Comparison Fujifilm GFX100 vs Sony A7III vs Nikon Z7 vs Canon EOS 5DS R
Now you say, it is unfair to compare it with full frame. And yes, it is. But it is also unfair to compare it to other medium format cameras.
It's the first medium format camera with IBIS, it's mirrorless, it's fast, and it has the size of a full frame DSLR with integrated grip, such as the Nikon D5 and Canon 1Dx MK II.
And if you think $10,000 is too much for the Fujifilm GFX100, then look around and you'll discover that a Mamiya Leaf with 50MP 44×33 sensor, which is inferior in every regard to the GFX100, will cost you $24,000!
The Fujifilm GFX100 simply sets itself in a new territory.
Fujifilm GFX100 Pre-orders