How 3 Dollar Saved my Fujifilm X-T5 and Re-Discovering Classic Negative in Vietnam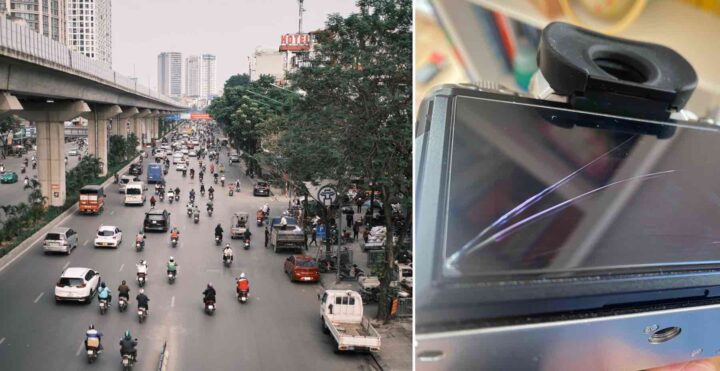 $3 that Saved my X-T5
If it wasn't for this ultra cheap accessory, my first travel with my new Fujifilm X-T5 could have been ruined (from a photographic point of view).
Here is what happened.
Destination: visiting my wife's family in Hanoi, Vietnam, during Christmas Holidays.
While waiting for our bags at the Hanoi airport (after a humble 25 hours travel in the cheapest economy class seats), I took out my X-T5 and started to take some images. Then I asked my wife to hold the X-T5 while I handle the bags and bring them to the taxi.
Once we were in the taxi, rather exhausted from the long flight, my wife put the X-T5 on her lap. Arrived at her parents home, she totally forgot she had the camera on her legs, opened the door, got out of the car and the X-T5 tumbled down on the street.
first thought: luckily I did not travel with the Fujifilm GFX100S
second thought: remember there are worst things in life
third thought: f***
When we collected the X-T5, we noticed major cracks on the screen.
But luckily I followed my own advice and did immediately apply a $3 touch sensitive screen protector on my X-T5 when I bought it.
This saved my X-T5 and once back home in Italy, I simply removed the broken screen protector using a dental floss and replaced it with a new one.
The X-T5 itself is still in perfect conditions and works like a champ. It's a tough beast ;).
Lesson learned: don't save on the wrong things. If you don't have a self protecting fully articulating screen, then a screen protector is a must buy.
Re-Discovering Classic Negative
Now to the more pleasing part of the tale ;).
I didn't get around a lot in Vietnam, as of course our main goal was to spend as much time as possible with her family and friends. So lots of the images I took are casual images capturing our daily life at home. Nothing of huge interest to share on FujiRumors, but for me personally the images that matter most.
But we did manage to squeeze in a 3 day trip to the nearby Ninh Binh province (to visit Tam Coc and Tràng An, where the movie "Kong: Skull Island" was filmed).
I traveled with the Fujifilm X-T5, the XF23mmF1.4 and my favorite travel zoom, the XF 18-135mmF3.5-5-6.
And I did put a little "challenge" on me: exit out of my film simulation "comfort zone" (mainly Classic Chrome and Astia) and try to use film simulations I haven't used in a while.
This time around, I mostly used Classic Negative, mainly for street photography and cityscape, but also for some landscape images.
And I must say I really love the results and as a consequence I started to use it more often also once I got back home in Italy.
The lesson learned?
Well, I guess we all have film simulations we particularly love. And maybe in the past we used some film simulations that did not convince us and as a consequence started to ignore them.
But my tip would be to give that hardy used film simulation another try. You might find out you love it more than you initially thought.