Gold Award: X100S review at dpreview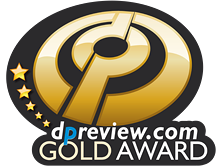 The long awaited DPR review of the X100S is finally online. Take your time go through the 20 pages here. The overall score is of 81%… but don't worry, the image quality is excellent, the lens is very sharp, the viewfinder rocks, the JPEG's are amazing, the built-in ND filter has little or no negative impact on image quality… but it has an "unexciting video mode, clunky ergonomics, so-so audio and occasional moiré issues", "only one-step magnification option in EVF/LCD live view mode" no face-detectionAF and some more CONS you can read at the conclusions here. But as the reviewer said at the end:
"The only thing about it which feels wrong, and outmoded is the video feature, but let's be honest – that's not why you're reading this review. Despite some minor annoyances, the X100S wins our coveted gold award. Sorry it took so long!"
Some of the CONS could be fixed in future firmware updates. Wouldn't it be nice, for example, to have face-detectionAF? So let's address to Fuji our suggestions for further improvements on the X100S in the comments!
have a great day
Patrick