FujiRumors Reloaded :: Now You can Write your Own Articles directly on FujiRumors!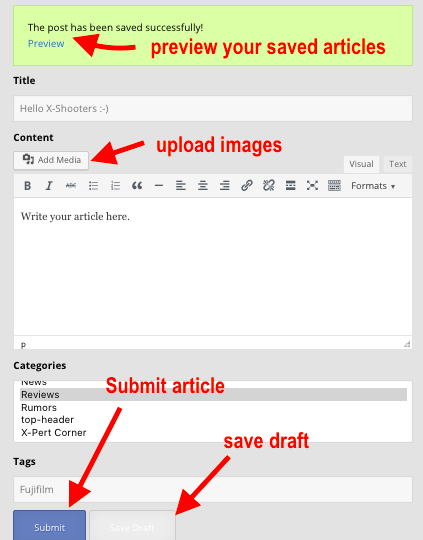 Starting from today, FujiRumors offers everyone of you the possibility to write articles directly on FujiRumors and reach a veeery (!!!) large audience of fellow X-shooters… and of course Fujifilm itself – (they do read us).
Your articles are a great opportunity to inspire us all, interact with the largest Fuji X shooter community on the web… and also to give your own blog, portfolio, facebook etc Massive Exposure ;-) .
Think about it…
How to write a Guest Post
BETA VERSION

Step 1: Go to the FujiRumors Guest Post Page.
Step 2: Log-in to your Account. If you don't have an account, register here.
You have to be logged in to be able to write guest posts!
Step 3: Now you can see the "Submit-Form". Enter your article there. You can also upload images.
Step 4: You can save your article by clicking "Save Draft".
Step 5: All your saved articles will be visible at fujirumors.com/article-list. From there, you can access all your articles and edit them anytime you want.
Step 6: When you are done with the article, click on "Submit".
Don't worry, also after klicking on "Submit" or once the article is online on FujiRumors, you can still edit it.
Step 7: Just wait… only me (Patrick) can publish your article
The fujirumors.com/article-list
Here you can edit all your saved, submitted, or published articles anytime.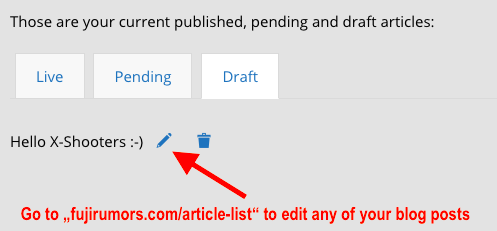 Notes:
– Only me (Patrick the admin) can publish your article. I need to review the text to avoid misuse or any other kind of possible issue.
– By clicking on the "submit" button you confirm that all images and the text used in the article you submitted can be published on Fujirumors.com. The author of the submitted post confirms that he owns (or got the permission to use on Fujirumors.com) the copyrighted images or text
– This is a BETA-Version, so if you stumble on any kind of bug, just let me know at fujirumor [at] gmail [dot] com and I'll work to sort it out.
cheers

Fuji X Forum, Facebook, RSS-feed and Twitter