FujiRumors Birthday Charity Auction: I Sell X-T1 Grip & Leather Strap to Support Free Education in Cambodia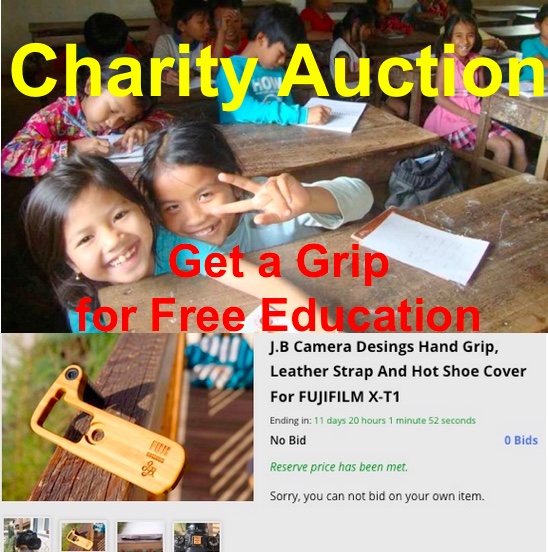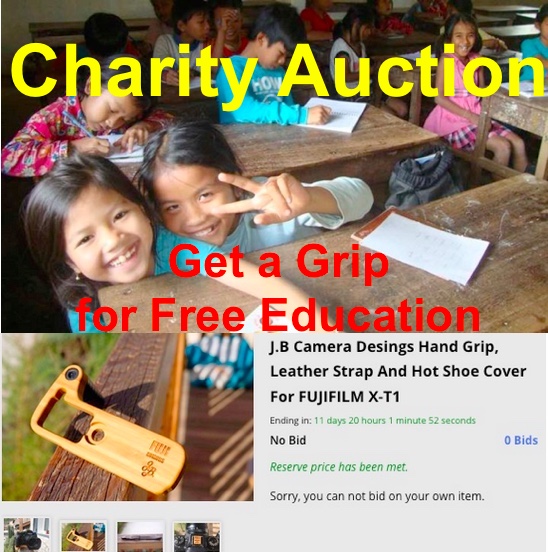 The Charity Idea

After our great JBcameradesigns + FujiRumors giveaway last year, J.B. cameradesigns surprised me and sent me for free:
I do LOVE everything, even the cute hot shoe cover. It's now all on my X-T1 and will never come off.
The thing is, I have it all twice. And since I have only one X-T1, I decided to launch an auction and sell the extra items …. but not for personal profit.
I thought it's much better to donate the money of the auction to KNGO, an NGO that gives access to free education to Cambodian kids and we collected money for here on FR in the past, by selling fair trade T-shirts made by Tonlé and donating all the earnings ($3,500) to KNGO. More details below and also here.
The Auction
All items listed for sale are brand new and never used. I just took them out of the box to take the pictures, and then put them right back into the box. The regular price for wooden hand grip (for Fujifilm X-T1) + leather wrist strap and hot shoe cover is of $110, and this is also where our auctions starts from.
You can join the auction as a guest (so you do NOT need to register), but if you already have an account on FujiRumors, you must log in to your existing account here first (if you have any problems to log-in, just contact me at fujirumor@gmail.com)
Here is what will happen, if you win the auction:
You will get an email with the link to the KNGO paypal account
Pay KNGO the equivalent amount of money you won the auction with
Contact me at fujirumor@gmail.com and send me your mailing adress
KNGO will contact me as soon as the payment has been done and the money arrived to their account
As soon as KNGO gets the money and I'm notified by them, I will ship the wooden "FujiRumors" hand grip for X-T1, the leather strap and the wooden "FujiRumors" hot shoe cover to you (I'll pay for the worldwide shipping)
I hope you like the idea, and don't be scared to place your bet. You will love the look and quality of the J.B cameradesigns products and at the same time all your money will support free eduaction in Cambodia. That's what I call I real win-win :)
The auction starts today and ends on April 17 (my birthday) at 11:59 PM New York time.
RULES: Once you won the auction, you have to pay KNGO within 7 days. If no payment has been done, I will move on and contact the person, who placed the second highest bet.
My Personal Motivation for all this
or…
the super-boring part you couldn't care less ;)
Charity is a very personal thing. I usually do it in complete silence for myself, but this time, for this particular auction (just like with the Tonlé T-shirts) I can't do it alone and I need your support :)
I also understand that many of you might be sceptical when they read about some charity on the internet, since sadly there can be scams out there.
This is why I decided to tell you my personal motivation for all this. It might help you to understand that I'm driven by the genuine will to support KNGO and don't keep a penny for myself (you will pay directly KNGO via paypal).
When I travelled for the first time through South America, back in 2005, I immediately knew that volunteering would become something important in my life. Since that summer in 2005, I never stopped to search for opportunities to spend my summer holidays (and money) helping a little bit.
So, for example, I have been to Nicaragua at the project Los Quinchos, where I cleaned toilets, distributed food to kids living in the largest waste disposal site of Central America and played with the kids. I've teached maths to the slum kids of Salvador de Bahia at the Casa do Sol and more.
I also started thinking at new ways to keep up doing something good now and then, and I thought that I could actually connect my passion (photography and FujiRumors) with my ideal (volunteering).
So in 2014 I had the idea to make fair trade T-shirts, and in my internet research, I found the amazing company Tonlé (Tonlè on Twitter), located in Phnom Penh, Cambodia. They make 100% recycled clothes and treat their workers very well (if you need a nice gift for your wife, get it at Tonlè). Tonlè was exactly what I was looking for.
It took me months of emails and I also flew to Cambodia, to set it all up (and I saw a movie with an X100 in the airplane :) ). I also used a bit of my time to travel Cambodia, and in Battambang I casually stumbled on KNGO. I stopped at their project and loved what they were doing. So I immediately decided to donate them 100% of the earnings we would make with the sale of the Tonlé T-shirts.
So it happened, that in 2015/2016, with your amazing support, we collected $3,500 for KNGO :)
This auction launched today, is just a little more step to keep up doing something good.
That's all folks… have a great start in your week… and don't forget to place your bet ;)
Fuji X Forum, Facebook, RSS-feed and Twitter