FUJIFILM X World Closes and Becomes Fujifilm Connect: Entire Cloud Strage Deleted and Warranty Registration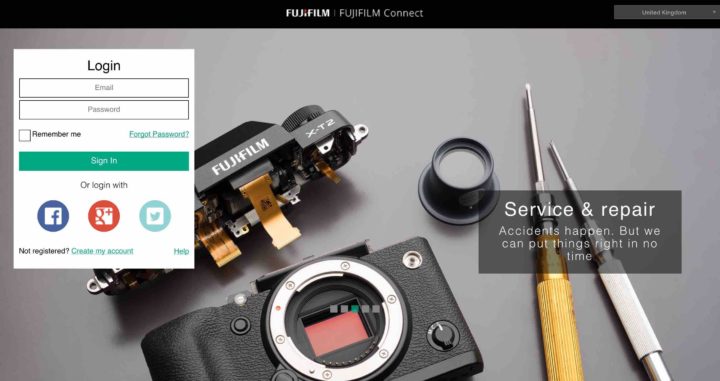 As reported at our fuji-x-forum here and by FR-readers to me directly via email (fujirumor@gmail.com), Fujifilm will close their Fujifilm X World site on April 30 (which also offered 5GB of free cloud storage, that will be deleted soon).
The new site will be called fujifilm-connect.com.
This change will affect only EU and AUS X-shooters. US support is still at fujifilmusa.com.
Here is the full email Fuji X shooters have received, and shared for all of us at the fuji-x-forum here.
A very important change to our warranty registration process for digital cameras and lenses comes into effect today, 5 April 2018. Following feedback from our customers we are proud to launch FUJIFILM Connect – a website that lets FUJIFILM X Series and GFX system photographers register their equipment for warranty, arrange repairs and provides you with everything you need to know as a Fujifilm owner, in one place.
The new FUJIFILM Connect website will replace our existing online warranty registration form. If you have already registered products that are still within the warranty period for your country of purchase, don't worry, this remains unaffected and you will still be eligible for the remaining warranty. However, we recommend that you create a new account on FUJIFILM Connect and upload details of your existing Fujifilm kit and receipt for safe keeping. If you purchase any new digital camera equipment in the future, you will need to register this on FUJIFILM Connect for warranty purposes.
FUJIFILM Connect will be replacing the current FUJIFILM X World website which is due to close on 30 April 2018. If you have taken advantage of the free 5GB cloud storage on FUJIFILM X World, we strongly recommend that you create a backup of these images as soon as possible.
Register at FUJIFILM Connect now by visiting www.fujifilm-connect.com