Fujifilm X-T10 (and X-E2) Probably Still NOT Discontinued!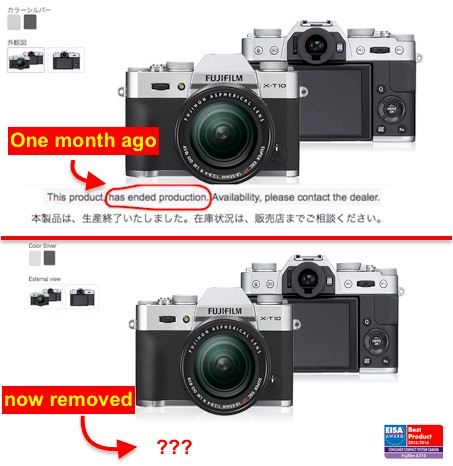 Back in September, I reported here how Fujifilm itself, over at their official Japanese Fujifilm X-T10 and X-E2 pages, wrote a note that "this product [X-T10 and X-E2] has ended production" – google translated
None of my sources could ever confirm this, but since it has been officially shared by Fujifilm, I had no reason to doubt that. I mean… Fujifilm Japan must be considered a trusted source, right?
But you know, not even Fujifilm itself has a 100% hit rate. In fact, it seems they were a bit to overhasty to mark it as discontinued and after the FujiRumors articles, they removed the note, that the production ended – see the Japanese X-T10 product page here and X-E2 page here. So Fujifilm is still manufacturing them (if we can trust Fujifilm ;) ) .
thanks to the FR-reader for the link :)