Fujifilm X-PRO2: 24MP APS-C sensor, tilt screen, WiFi and available in 2015 (anonymous source)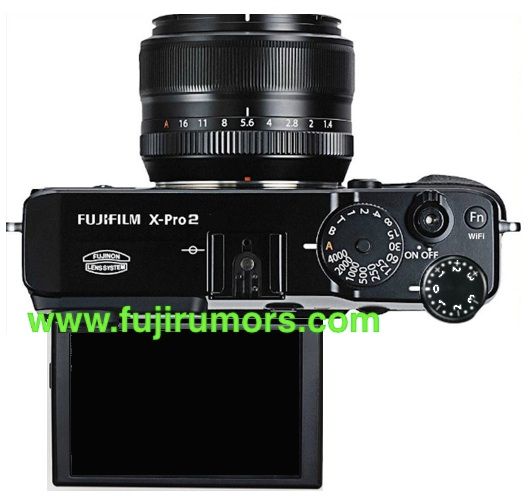 If you remember, back in January an anonymous source (with nick-name) told us that Fuji dropped plans to produce an X-PRO1S. All R&D was placed into the X-PRO2. But, so the source, sensor and design were not finalized at that time.
A few months later, rumors of an Fujifilm X-PRO2 featuring a FF sensor were quickly corrected by the trusted Japanese FR-source, who told us that it will feature an APS-C sensor.
And now the dice might have been cast. According to an anonymous source, Fujifilm decided to put a 24MP APS-C sensor into the X-PRO2.
But the source shared some more details: the X-PRO2 will have a tilting LCD screen and, as to expect, a built-in WiFi. The camera should be in stores in 2015 (the source said February, but, as we know, this is always a tricky part of rumors, as Fuji can change the date in any moment).
Another question is if it will be announced in 2014 or 2015. Mirrorlessrumors said here that it will be announced at the photokina (September). This anonymous source told me the same, but for now I'll wait for more feedback before confirming any date (I hear different dates). It could be the photokina, the CES (January) or even another day with no imaging fair (as the X-T1, which was launched in January 28). I'll work on it and hopefully be able to give you an update soon (and any help is warmly welcome).
However, the Fujifilm X-PRO2 should be available only in 2015.
You know it, take it with a grain of salt.
If you can help me to find out more, feel free to contact me completely anonymously via rumor box (and maybe give yourself a nick-name, so that I can eventually identify you in future if you decide to share some more rumors) or drop me an email at fujirumor [at] gmail.com.
And now let's have a look at the rumored X-PRO2 specs list (including rumors posted by other rumor sites):
(TS= trusted source / NeS =New Source / ASwN = Anonymous source with nick-name / AS = Anonymous Source / SRP = source who was right in the past, but not yet trusted / ORS = other rumor sites)
APS-C sensor (TS + ASwN + AS)
24MP sensor (AS)
available in 2015 (ASwN + AS)
tilt screen (AS)
WiFi (AS)
Non organic ASP-C X-Trans sensor (ORS)
Announcement at the photokina 2014 (ORS)
stay tuned for more,

facebook, google+, RSS-feed and twitter
WIN an Expert Shield Screen Protector
Last hours to join the giveaway (you have time until today, 07/08/2014 11PM New York Time) and have the chance to win one of the five Expert Shield screen protector for your Fujifilm X100S, X100, X-T1, X-E1, X-E2, X10, X20, X-M1, X-A1 or X-PRO1.
Expert Shield ships worldwide, so everyone can participate, no matter where you live. All you have to do to win is to like and/or share Fujirumors. The more you like/share, the more entry points you'll get.