Fujifilm X-A1: name registered at the Korean radio research agency!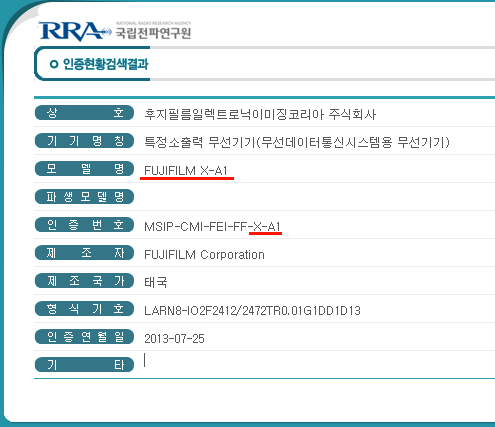 So it seems that the new (and trusted) Japanese FR-source was right also this time. The next APS-C X-mirrorless interchangeable-lens camera of Fuji will indeed be called X-A1 (read the rumor here). The name has just been registered at the Korean national radio research agency (spotted by digicame-info)
I've used google translator to translate the Korean text. The X-A1 will be equipped with wireless technology (approved by the radio research agency) "Specific low power wireless device (wireless devices for wireless data communication system)" and after the X-M1, now also the X-A1 will be produced in Thailand: "Country of origin Thailand"
According to the rumors already published on FR, this camera will be cheaper than the [shoplink 13828]X-M1[/shoplink], it won't have an X-Trans sensor (and also not the X100 sensor), will come in a lot of colours and will be sold by big retailers on the web and big general stores.
Follow Fujirumors on facebook, twitter and RSS feed and stay tuned for more.
spotted by digicame-info – Korean national radio research agency
P.S.: dealsrunner found a good offer on the [shoplink 15148 ebay]X-E1 with 18-55 at ebay here[/shoplink] and more! Check all the Fuji deals at dealsrunner.com.
bye
Patrick