Fujifilm updated the lens roadmap… but nothing new for FR-readers ;-)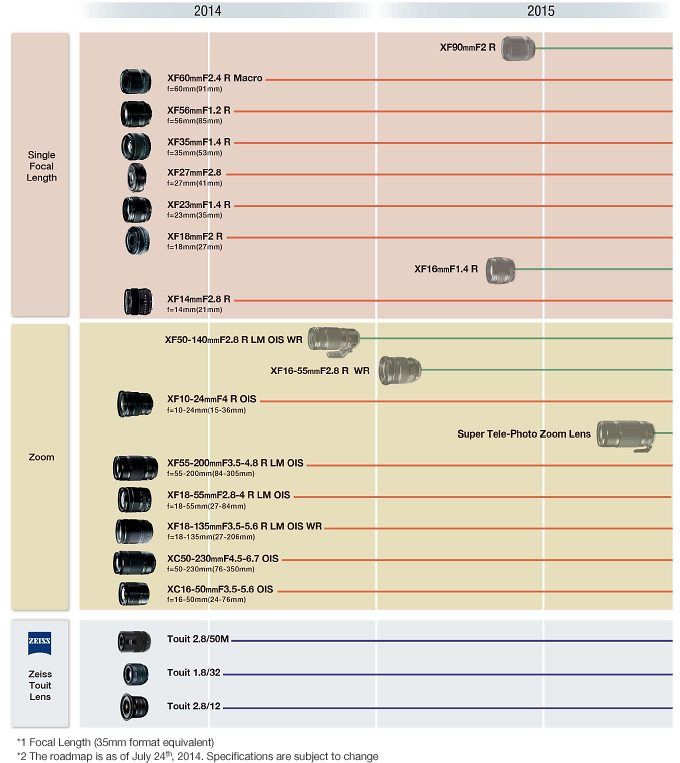 Fujifilm just updated the roadmap here. Nothing really new for Fujirumors readers. As rumored moths ago, there will be a 16mm f/1.4 and a 90mm f/2. The Super-Telephoto should be a 120-400, according to new sources. I've added the rumored roadmap at the bottom. Also updated, the right&wrong rumor list in 2014 and the reliability rating.
So what's new? Well, Fuji gave us an expected availability for the lenses and it seems that the new primes (90 and 16) won't be weather resistant. Also, the 16-55 seems to have no OIS anymore.
"FUJIFILM Corporation (President: Shigehiro Nakajima) is pleased to release an updated road map for X mount interchangeable lenses.
A large-diameter medium telephoto lens (the XF90mmF2 R) features for the first time on the development road map for end 2015. The next available lens will be the XF50-140mm F2.8 R LM OIS WR. Following on from the XF18-135mm lens, this will be Fujifilm's second weather resistant lens designed to partner its X-T1 camera.
Other updates to the road map include the previously announced "Ultra-wide angle lens" being confirmed as the "XF16mmF1.4 R" with a guide launch date of mid 2015. And the planned launch of the XF16-55mmF2.8 R WR lens moving to Spring 2015 and the Super Tele-Photo Zoom lens to Winter 2015.
Highly regarded for their outstanding image quality, resolution and well-built bodies, the unique X mount lens range now includes super-wide angle to super-telephoto range lenses and a large-diameter lens with rich bokeh and high resolution."
the rumored roadmap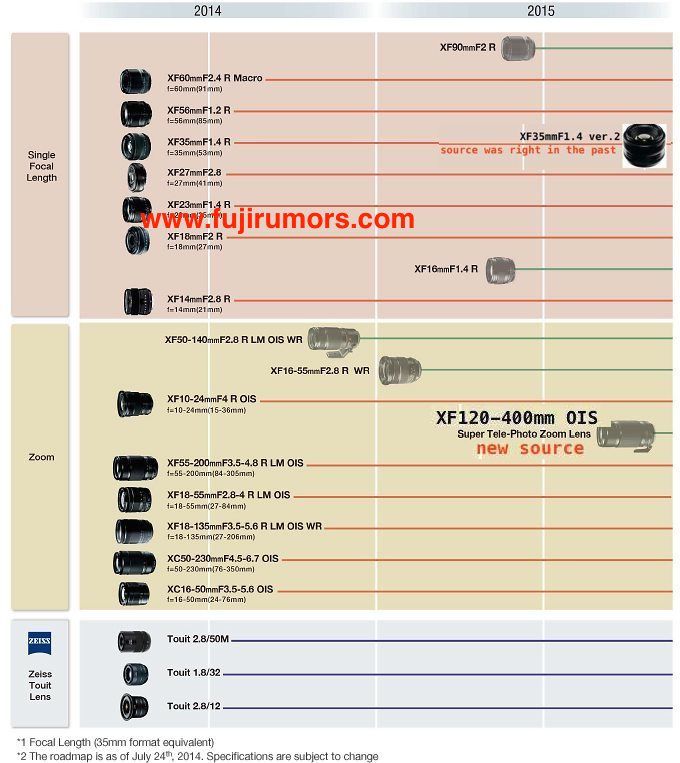 2014 rumor check
NOTE: You will see for example some X-T1 rumors (and others) listed sepratately. This is due the fact that there was, for example, a source telling me of a tilt screen, while another told me at a different time about the price and so on.
It's fair towards my sources not to put everything together in the same pot and simply say "X-T1″, as every rumor listed here comes from a different source and was posted in different articles and could have been right or wrong.
Obviously the same goes for the wrong rumors. I don't simply say "18-135 announcement", but shared all 3 wrong release dates separately, so that they result as 3 errors and not as one.
CORRECT RUMORS IN 2014
– XF 90mm f/2
– XF16mm f/1.4
– XF 18-135 coming June 16th
– X-E2 deal
– X-E2 firmware update with X-T1 EVF refresh rate coming soon (correct, it came a few days later)
– TCL-X100 will be out end of May (correct. It's available since then in Japan, now also in Europe. Still out of stock in USA)
– TCL-X100 will cost €250 and be a bit cheaper than the WCL (correct. AmazonDE sells the silver version for €249, while the discounted WCL still costs €269)
– TCL-X100 will cost $350/400 (correct, it costs $350 at Bhphot & Co)
– TCL-X100 coming second half of April (correct, announced April 22)
– Lightroom 5.4 coming next week
– February/March lens deals with confidential Fuji document
– With the next update, Adobe will support X-Trans film simulation
– X30 won't come in February/March as rumored by digicame-info
– Image and size comparison of the 10-24 with a protype 18-135 (real image)
– XF 16-55 and 50-140 will be weather sealed
– X-T1 announcement in January 28th at 4:30 AM London Time
– Improved WiFi for the X-T1
– UHS-II SD card slot, but no double SD-card slot + 8fps with AF tracking (Fuji originally planed a dual SD-card slot. When the first X-T1 image leaked here on FR, it even looked like a dual SD-card slot, but the Japanese source said it has just a single SD-card slot)
– X-T1 will cost $1300 / €1200
– First images of a prototype X-T1
– Firmware update for Zeiss will add PDAF support
– Tilt screen for the X-T1
– The name of the weather sealed X will be X-T1
– X-T1 will have the best EVF on the market
– black X100S will have a retail price of about £1000, about the same as silver version (the final retail price in UK is RRP £1099.99 for the black and £1049 for the silver version, according to wexUK. But now both are sold cheaper).
– XF56mm announcement at January 6th
– black X100S will be the only "new" X-camera presented at CES
WRONG RUMORS IN 2014

– XF 18-135 announcement on Memorial Day. NOTE: I excluded the rumor of an 18-135 f/3.5-4.8, as this was a typo by Fujifilm at the CP+ (see this image), and I just reported about it.
– XF 18-135 will come in May
– XF 18-135 in stores in February
– X-PRO2 with FF sensor (wrong, and corrected a few weeks later by the top trusted Japanese source)
HIGH RATING
– X30 with 2/3 sensor
– X100T successor of X100S
– XF120-400
– X-PRO2 with APS-C sensor
– No more X-PRO1S, all R&D placed into the X-PRO2
– X30 coming in summer (so there is time until September 20)
MEDIUM RATING
– X30 with EVF only
– Nissin i40: first lot of flashes available early September (the actual availability date will be various between countries, so in some countries it could come a little later)
– XF 35mm MKII (As Fuji has first to complete its lens lineup, it could take a while before the 35 MKII hits the market… and Fuji can change plans in any moment regarding this lens.) PLEASE NOTE: This rumor was not reported accurately by other sites (as petapixel and mirrorlessrumors). They quote FR, but say that the lens is "coming soon". Which I never said. None of my sources ever told me a release date. In fact I said on May 5th: "I do not know when it will be launched nor which improvements we can expect, but, as you may guess, I'm restlessly working on it."
– Faster AF for the 35mm MKII (This rumor is separated from the first 35MKII rumor, as it comes from another source and was posted in another article)

– X200 with 24MP, tilt screen, improved AF and wider detection area (Medium rating as I think that some, but not all the specs will be correct. The name has changed almost for sure to X100T).
– Button Upgrade for the early produced X-T1′s with mushy buttons.
– X-PRO2 available in 2015
LOW RATING
– X-T1P release with 4K viewfinder in July [An upgrade (or special/limited edition) is possible, but not anytime soon. And, as soon as also drphotorumor says that this rumor is not correct, I'll downgrade it to "very low rating". As soon as/if the top trusted Japanese source and/or the good old source tells me that this is wrong, I'll move it into the wrong rumors 2014 list]
VERY LOW RATING
– Sigma X-mount coming at photokina
– Medium Format Fuji (there are several anonymous sources telling me that this rumor is wrong. But I will post an update only when a trusted source speaks. And if they say, as to expect, that it is not correct, I'll move it into the "wrong rumors" list)