Fujifilm Removes New Firmware for GFX100S and GFX50SII and Promises Fix on May 31 (and Work Around Solution)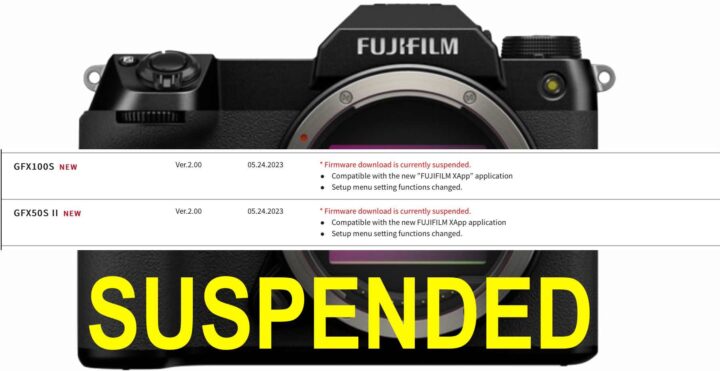 Yesterday Fujifilm has released lots of firmware updates for 13 Fujifilm cameras (including some major updates!!).
Two of those cameras were the Fujifilm GFX100S and the GFX50SII.
Sadly, after updating, many FujiRumors readers started to report to me that they were now incurring in issues with the new firmware.
Well, Fujifilm has now pulled off the firmware for those two cameras and said they will release a firmware fix on May 31.
Fujifilm writes:
We have confirmed a problem with the exposure compensation function not working properly.
Therefore, we have removed the download button for this version.
We will release fixed firmware on May 31.
As soon as the new firwmare is online, I will report about it on FujiRumors.
Also, fellow Fujifilm GFX group member Carlos shared a workaround and he shared it in our group.
"I found a solution or "work-around" to Firmware (FW) 2.0 disabling the Exposure Compensation button on my GFX100s. The solution "is in the manual", as some repeatedly and annoyingly say.
Go to the menu, and instead of choosing "+/- when pressing" (which was the default setting from the factory set-up), now choose " +/- on/off switch".
With this option, you will press on your camera the +/- Exp Comp button, then turn the back wheel to make a change, and then press the +/- Exp Comp button to deactivate the back wheel from altering the ExpComp. If you don't deactivate it, turning the back wheel will not alter your shutter speed. "
We remind you that Fujifilm removed also the XApp from the App stores due to issues with the display. A fix is on the way also there, but you can continue to use the App with no problem if you have already installed it.