Fujifilm Q2 Financial Results: GFX100S and Instax Boost Imaging Division at +30.2% YoY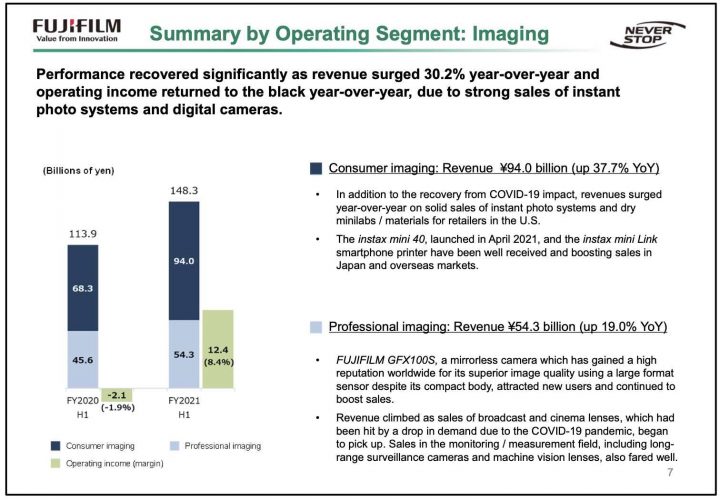 Fujifilm has published the financial results for the second quarter (ending September 30). A special mention goes to the Fujifilm GFX100S and Instax products.
You can find the summary down below.
Strong sales of instant photo systems and digital cameras boosted revenue by 30.2% year-over-year to ¥148.3 billion and operating income returned to the black year-over-year to ¥12.4 billion.

In the consumer imaging field, steady sales of instant photo systems and dry minilabs/materials for retailers in the U.S. drove revenue higher. Sales of both instant photo system devices and films fared well. The instax mini 40, launched in April 2021, and the instax mini Link smartphone printer have been well received in Japan and overseas markets.

In the professional imaging field, sales of digital cameras remained steady, including the FUJIFILM GFX100S, a mirrorless camera which has gained a high reputation worldwide for its superior image quality using a large format sensor despite its compact body. Sales of broadcast and cinema lenses, which had been hit by a decline in demand due to the COVID-19 pandemic, turned upward, contributing to higher revenue.
via fujifilm