Fujifilm Professional GFX Service Launched in USA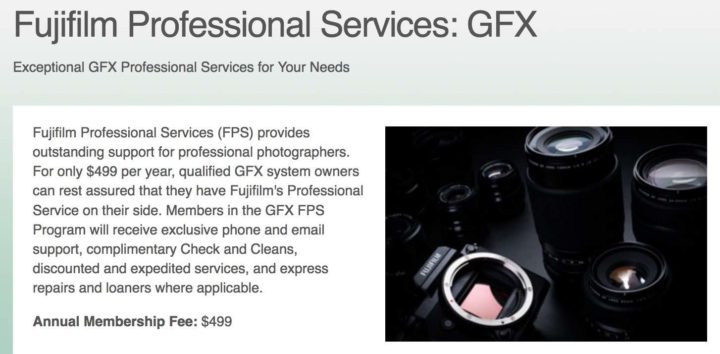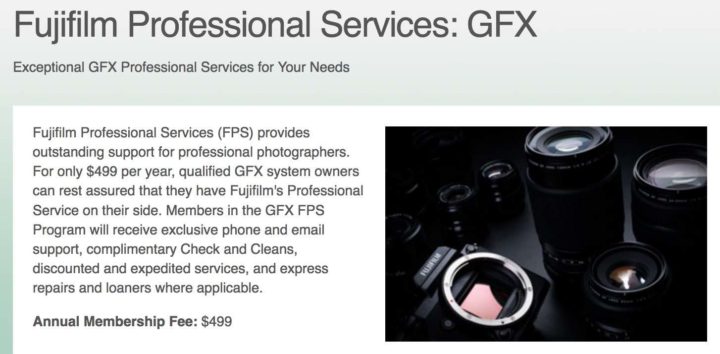 Just as rumored here and also already available in EU here, now also in USA there is a Fujifilm GFX professional service. It will cost you $499 a year!
Full Details via Fujifilm:
Fujifilm Professional Services (FPS) provides outstanding support for professional photographers. For only $499 per year, qualified GFX system owners can rest assured that they have Fujifilm's Professional Service on their side. Members in the GFX FPS Program will receive exclusive phone and email support, complimentary Check and Cleans, discounted and expedited services, and express repairs and loaners where applicable.
Annual Membership Fee: $499
Program Requirements: Please see the GFX digital camera and GF lens purchase requirements and other eligibility requirements
here.
Benefits of the FUJIFILM North America Corporation ("Fujifilm") U.S. GFX FPS Program:
Welcome Kit and Fujifilm Swag Bag
Personalized FPS Card confirming access to dedicated hotline technician telephone and email support.
Four (4) Check & Clean Program Service Vouchers, each of which is valid for redemption for 1 complimentary Check & Clean Program Service on 1 Covered GFX system Body & 1 Covered GF system Lens. Voucher limitations and terms and conditions apply. Voucher terms here.
50% Discount on Additional Check & Clean Program Services on Covered GFX System Products.
Two (2) Business Day Turnaround for Check & Clean Services, and Complimentary 2-Day Express Return shipping for all Check & Clean Service.
Thirty percent (30%) discount on non-warranty repairs for Covered GFX System products
Expedited two (2) Business Day Turnaround Time for Repairs, with free 2-Day Express Shipping to and from the Fujifilm repair facility.
GFX System Product Loaners for Covered Equipment in for repair may be available upon request if repair is expected to exceed two (2) business days, based on availability.
GFX FPS Programterms and conditions apply – read all the details of this program at
GFX FPS Program Terms and Conditions.
Apply Online!
The easiest way to become a member of the GFX FPS Program is by simply registering your GFX digital camera and GF lens purchase within 30 days of purchase, and applying below. Membership will be activated upon confirmation of your credit card payment of the $499 annual membership fee!
via Fujifilm