Medium Format Fujifilm :: Rangefinder or DSLR style? And the Answer is… (New Source)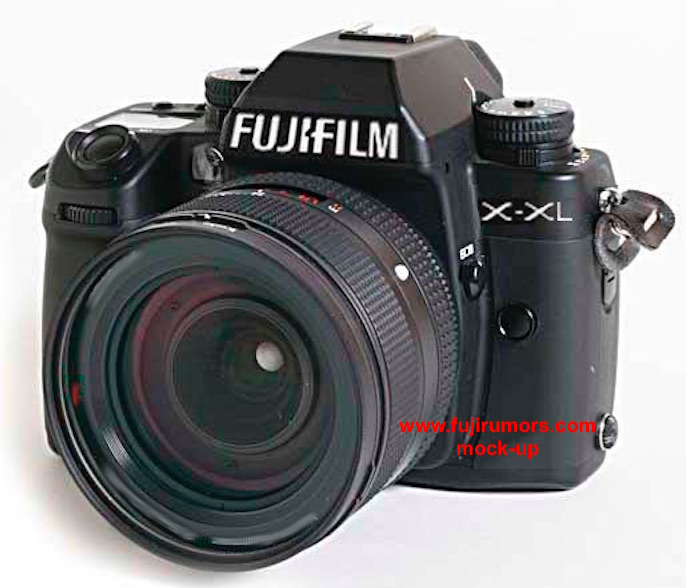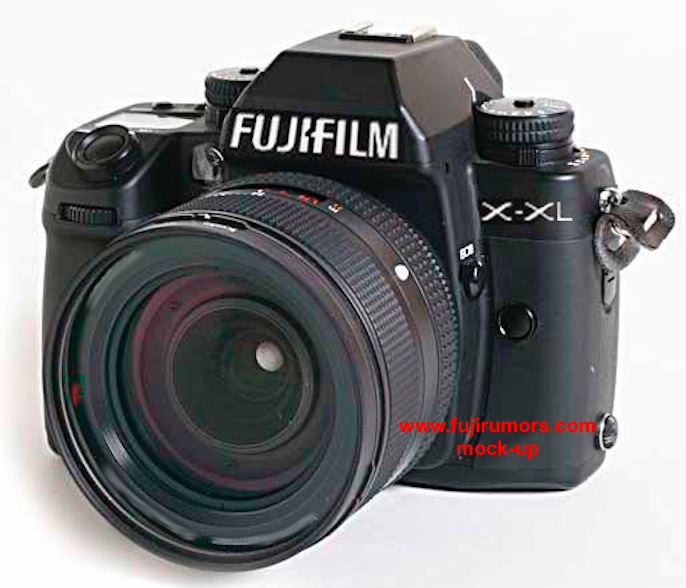 this is a fujirumor.com mock-up based on the Contax N1 
the name "X-XL" is also just a mere invention of mine… but if Fuji likes the idea, just take it :-)
_ _ _
[wysija_form id="1″]
Medium Format Fuji :: The Design
Did I ever tell you that every rumor, especially the ones that come from New or Anonymous sources, has to be taken with a grain of salt? And you should have a bit of salt ready this time, because this rumor comes from a brand new source I had the pleasure to exchange some emails (thanks :-) ).
The New Source possibly shared the answer to one of our Top 7 Medium Format Fujifilm Questions: Will the Medium Format Fuji have a Rangefinder or DSLR design?
According to the New Source, the Medium Format Fujifilm Camera will have a DSLR shape.
End of the Rumor
If true, then we can expect a camera with centered Viewfinder, just like the Digital Mirrorless Medium Format Hasselblad X1D… and the Fujfilm X-T2 of course.
And since the DSLR styled X-T1 is by far Fuji's most successful camera (and also the X-T10 sold better than the X-E2), I guess Fujifilm simply decided to go for the form-factor that was the best selling so far.
So high time to launch the rumored Fujifilm Medium Format Camera Specs list:
Trusted Source
Source Right in The Past
Will be launched along with 3 lenses (rumor here)
Will be mirrorless with interchangeable lenses (rumor here)
New Source
Fujifilm X-T2: USA: BHphoto / AmazonUS / Adorama / CANADA: AmazonCA / EUROPE: AmazonDE / Calumentphoto DE / AmazonUK / AmazonITA / AmazonFR / AmazonESP / PCHstore / WexUK / AUSTRALIA: CameraPro
stay tuned,

Fuji X Forum, Facebook, RSS-feed and Twitter