Fujifilm Launches New Version of the FUJIFILM Camera Remote App that Improves Overall Usability and Connectivity

Fujifilm launches new version of the FUJIFILM Camera Remote app that improves overall usability and connectivity
*** Fujifilm X-T30 / XF 16mmF2.8 Live Blogging Coverage ***
Fujifilm X-T30
Fujinon XF16mm f/2.8
Press Release
Fujifilm Corporation (President: Kenji Sukeno) will launch a new version FUJIFILM Camera Remote (Ver. 4.0) for your smart devices which support all of FUJIFILM wireless-equipped digital cameras. The FUJIFILM Camera Remote app can operate wireless-equipped digital cameras by remote control to shoot images and movies in the camera and to transfer them direct to your smart devices. The pairing process is now easier thanks to the newly designed interface in Ver. 4.0. It also includes an "Album" function that allows you to browse only the images imported from the camera.
[ Features of the FUJIFILM Camera Remote ]
Transferring images and videos to a smartphone or tablet
Browsing the images and videos on the camera from a smartphone or tablet
Downloading Location Data from a smartphone
Shooting images remotely
Downloading and checking the latest firmware for the camera (Bluetooth enabled cameras only)
[ Improvements ]
Newly designed interface to operate the app easily
"Album" function to allow you to browse images only imported from camera
More stable connection between the camera and smart device, even when switching menus within the application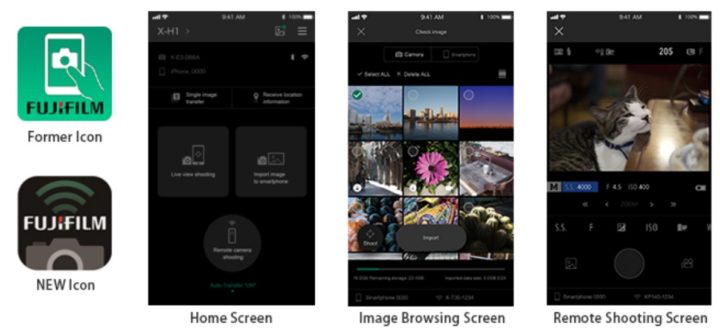 [ Release Date ]
iOS Ver. : Available on end of March 2019
Android Ver. : Available on May 2019
[ How to download ]
Download this app from the App store and Google Play.