Fujifilm Instax Link Wide Smartphone Printer Available for Pre-order at Some Stores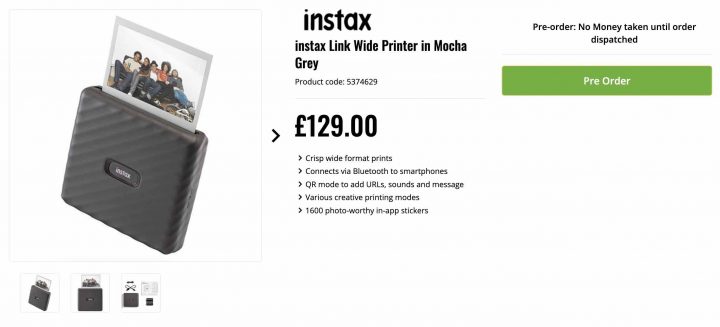 The Instax Link Wide Smartphone printer is now listed and available for pre-order at some stores, for example at Jessops in charcoal gray here and Ash White here for £129.
Instax Wide Products
Product Details
The instax Link Wide is a stylish wide-format smartphone printer that's overflowing with must have features to make sure nothing is lost. Not only does the Link Wide get everyone in, the Link Wide app adds another dimension. Why just print beautifully framed wide prints, when you can supercharge them in the app. Add text, resize, apply a filter, play with the contrast – there are plenty of options . All before you connect wirelessly via Bluetooth to the Link wide, swipe up and print.
Colour modes
Make your images different by delving into the colour modes – instax Rich for all the colour and instax Natural for a classic feel. Two very different colour outputs, two distinctive ways to inject vibrancy into memorable moments before printing them instantly onto Wide film.
Editable templates
There are over 30 editable templates to play with. Perfect for weddings, birthdays, graduations…find your inspiration, capture it, make your edits, add words, take a snap for the background, hit print and share.
QR mode
A QR code and transform each and every one of your snaps into secretive moments. Share the perfect recipe with a link to a URL, record and give a laugh, pinpoint a location of your choice or write a hidden message.
Creativity
Bring out your creativity with a spot of sketch and scan. Fully load your prints with Collage mode. Even add a non-sticky sticker to your photo – there's over 1,600 to choose from.
Main features at a glance:
– Crisp wide format prints
– Connects wirelessly via Bluetooth to smartphones
– Supercharged exclusive app for endless creativity – QR mode to add URLs, sounds and message
– Over 30 editable templates – Multi-print feature – Various creative printing modes
– 1,600 photo-worthy in-app sticker
– Light and durable design