Hasselblad X1D Vs. Fujifilm GFX Start-Up Time :: Why Fujifilm Chose Focal Plane Shutter & More!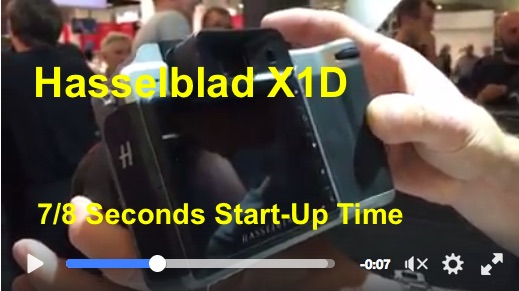 Fujifilm GFX
Start Up Time Compared
The Hasselblad X1D has a nice, simple, slim & clear design. But is it also a workhorse? Well, Jörg Kampers shared at the Fujifilm GFX facebook group his hands-on feebdack (with Video):
Turn on, get a coffee, start shooting….. And this thing get's so hot, that the coffee stays hot….. ONE focus point for now….really? The GFX starts up almost as fast as the X-T2, the viewfinder is bright and big. Yes, it's no scandinavian design, but it works and will be able to adapt leaf shutter glasses !!!
On the contrary, as you can see in this video, the Fujfilm GFX seems to start up quite instantly… and it's just a very early prototype.
GFX Thoughts & Hands On

Out-of-focus thoughts about a new Fujifilm medium-format GFX 50S at olafphotoblog
GFX Hands On in Dutch at gregtheulings (translation)
Fujifilm GFX 50S Preview at photographyblog: "One of the main differences between the Hasselblad X1D and the Fujifilm GFX 50S is that the latter has a focal-plane shutter, allowing for shutter speeds as fast as 1/4000th of a second. It also means that the lenses can be made smaller, lighter and cheaper as they do "not need to have a built-in leaf shutter."
Why Focal Plane Shutter (and no Leaf Shutter)

Why did Fuji chose the in body Focal Plane shutter over leaf shutter in lenses? Well, because the focal plane shutter has its advantages. Like popularphotography said:
The focal plane shutter allows Fujifilm to adapt other lenses via adapter (leaf shutter lenses and regular lenses).
The focal plane shutter allows faster shutter speeds wide open than leaf shutter lenses
Sure, it makes the camera bigger, but it adds also felxibility to the entire system. You can't have it all… the market will decide, who made the better choice, Fujifilm or Hasselblad.
Always popularphotography reminds us how Hasselblad said that designing zoom lenses for Medium Fomrat cameras is very hard (that's why, for now, the offer just primes). But Fujifilm will offer a zoom lens right from the start.
Oh, and in the video below, you can see it compared side by side with the Canon 6D.