Fujifilm Financial Results for Q2 FY2022: Instax Beats Nikon and Brisk Digital Camera Sales Push Imaging Division YOY Revenue (+23.7%)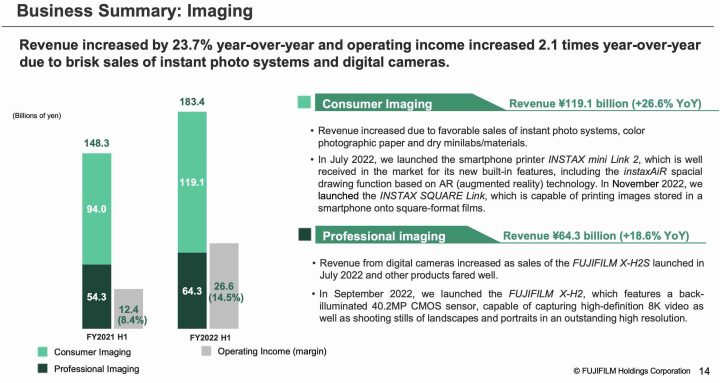 Fujifilm has published the results for the second quarter of the 2022 fiscal year (July 1 to September 30, 2022).
The main digital camera launched in these months was the Fujifilm X-H2s, which Fujifilm says sold "strong". The results for the high resolution Fujifilm X-H2 will be visible only in Q3 of FY2022, since it started shipping only in late September/early October.
Instax
Instax keeps rocking.
Instax alone made more revenue (¥119.1 billion) than Nikon's Imaging Products Business (¥114.5 billion).
A special mention goes to the INSTAX mini Link 2 and the INSTAX SQUARE Link.
Digital Cameras
Good results also for Fuji's professional imaging division with a revenue of ¥64.3 billion (+18.6% YoY).
Forecasts
Given the good numbers, Fujifilm changed their previous FY2022 forecasts (announced in August) for the imaging segment (numbers in billions of yen)
Revenue Forecast: from 360.0 to 390.0 (revenue for FY2021 was 333.4)
Operating Income Forecast: from 42.0 to 52.0 (operating income for FY2021 was 37.0)
And the best has yet to come for Fujifilm, with the sales of the Fujifilm X-T5, which will push the revenue of Q3 and Q4.
R&D
R&D expenses for the first half of the fiscal year were 4.8 billions of yen (was 4.1 in first half of FY2021). So a good sign also here, as Fujifilm seems to be gradually increasing the R&D resources for the imaging solution.
Summary
Revenue increased by 23.7% year-over-year and operating income increased 2.1 times year-over-year due to brisk sales of instant photo systems and digital cameras.
Professional imaging – Revenue ¥64.3 billion (+18.6% YoY)
Revenue from digital cameras increased as sales of the FUJIFILM X-H2S launched in July 2022 and other products fared well
In September 2022, we launched the FUJIFILM X-H2, which features a back-illuminated 40.2MP CMOS sensor, capable of capturing high-definition 8K video as well as shooting stills of landscapes and portraits in an outstanding high resolution.
Consumer Imaging – Revenue ¥119.1 billion (+26.6% YoY)
Revenue increased due to favorable sales of instant photo systems, color photographic paper and dry minilabs/materials.
In July 2022, we launched the smartphone printer INSTAX mini Link 2, which is well received in the market for its new built-in features, including the instaxAiR spacial drawing function based on AR (augmented reality) technology. In November 2022, we launched the INSTAX SQUARE Link, which is capable of printing images stored in a smartphone onto square-format films.
Fujifilm also writes:
By developing the double flagship models [X-H2s and X-H2] that combine these new sensors and the AI-based high-speed image processing engine X-Processor 5, we will meet the needs of a wide range of users, from photography enthusiasts to professional photographers and video creators.
You can access all the data at the dedicated Fujifilm holding page here.
X-T5 USA Pre-Orders
Fujinon XF30mmF2.8 Macro Pre-Orderrs
X-T5 Other Countries