Fujifilm Announces "Fujikina 2017" Event in Kyoto on January 21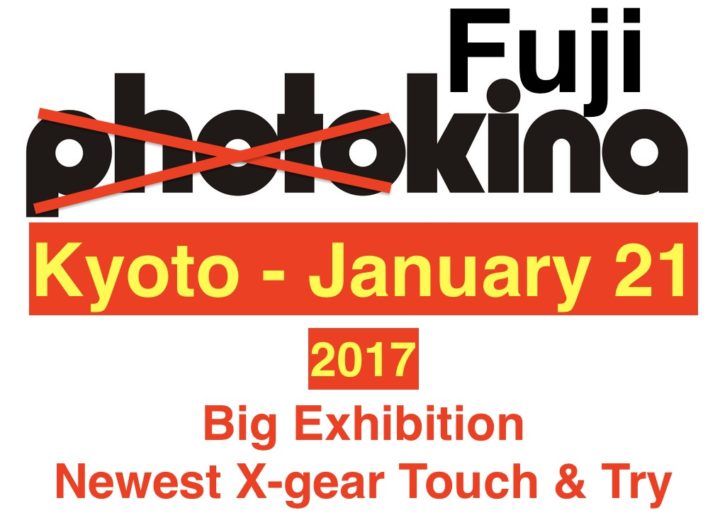 Fujifilm has big plans apparently, since they just chose to launch a Photo Event in Kyoto with the important name "FujiKina 2017" (in reference to the biggest photography show in the world, the Photokina in Cologne).
Participants will also have the opportunity to Touch & Try the latest and greatest Fujifilm gear.
Of course it's just a coincidence, that the event starts 2 days after this ;)
Here is the full (google translated) announcement:
Fujifilm Corporation (President: Kenji Ueno) will hold "FUJIKINA 2017 Kyoto" for two days on Saturday, January 21, 201 (Sunday), 2017.
At this event, we will exhibit photographs depicting the themes of "the world of the large format", "the world of the center finder style", and "the world of the range finder style" with three galleries scattered in the city of Kyoto. In addition, we have a touch & try that you can experience the latest models, talk shows and studio demonstrations by domestic and international famous photographers who love the X series, free rental service of X series and free quick maintenance service (reservation system) We are doing our favorite thing for pleasing everyone who has patrons.
In addition, if you pre-register for this event, you will receive a memorable item as a bonus.
I am waiting for your visit from the bottom of my heart.
via Fujifilm