Fuji X-T1, X-T2 – A New Way of Seeing!
NEW GUEST POST FEATURE
Write Your Articles Directly On FujiRumors!
guest post by Philip Sutton: philipsuttonphotography website + Instagram @finartfoto
Before I get to the point of this posting, I will give a little bit of background to add some perspective to my thoughts. I started my photographic journey way back in the film days. I shot for many years for a Stock Library in Sydney Australia. You know the deal – the generic girl with glossy white teeth eating a red shiney apple, or the squeaky clean couple with their 2.2 kids having a picnic under the perfect umbrella-shaped tree. All fairly boring stuff, bit it kept my artistic flair alive and helped to pay the bills. I still worked as a teacher (my main source of income), but I was able to make a healthy supplement to my earnings by selling 'stock'. Back in those days the Nikon F3, then the F4 were the weapons of choice. Due to family reasons, I had a break from photography for about 10 years, and of course when I returned everything had gone digital.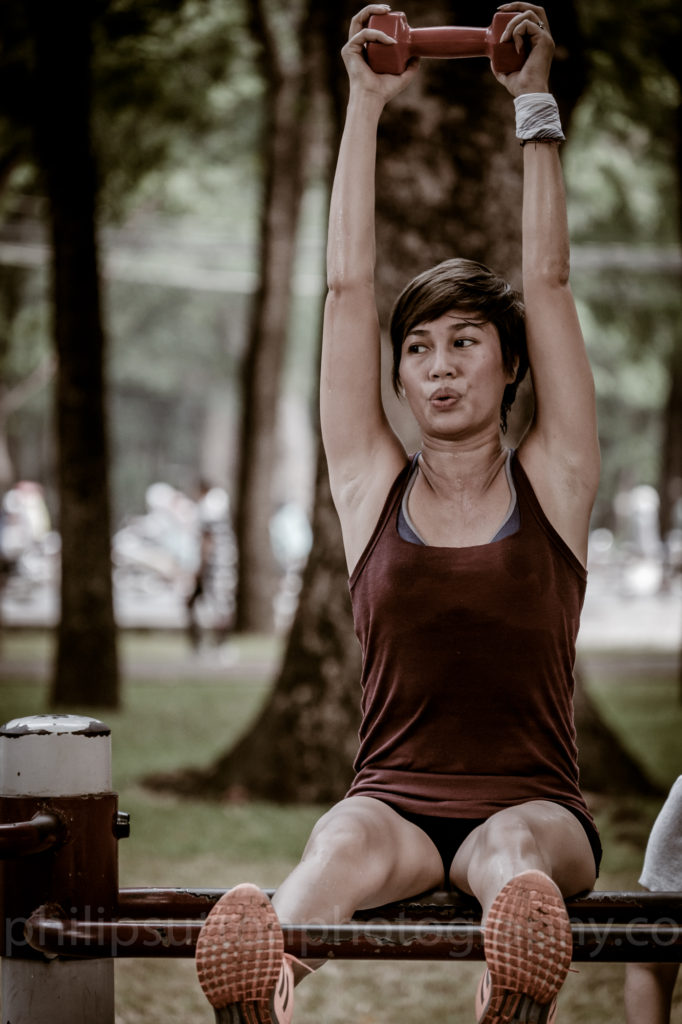 For the last 6 years now I have travelled Asia extensively (usually for 3 months of the year), shooting Fine Art images for my website. My recent weapons of choice were the Nikon D700 and D3X. After thinking long and hard how I could lighten my burden from dragging these huge DSLR's around in the tropical heat of Asia, I eventually threw caution to the wind and in 2012/13 I sold all of my Nikons and lenses and bought a Fuji X100, X-Pro1 and some lenses. On a good day, the X100 was just OK, but the X-Pro1 experiment was an unmitigated disaster. That trip to Asia in 2012 was highlighted with mutterings and expletives all aimed at the Version 1 Firmware of my X-Pro1 and its lack of focusing ability. I returned back home with not many useable photos and immediately (at great expense), sold all of the Fuji gear and bought another D3X with a selection of lenses.
Push READ MORE
The years ticked by with many beautiful images recorded, but I could never come to terms with the weight. After booking a trip to Vietnam – at the beginning of this year – I launched back into the deep unknown, and sold the Nikon gear and bought a Fuji X-T1 and another X-Pro1. I had done a lot of research this time, so I was sure that the Pro1 (after 13 firmware updates), would be a different beast, and everybody was singing the praises of the Fuji X-T1. Of course I didn't really want the X-T1 because it had that silly looking flimsy 'flippy' screen, but it was half the price of the newly introduced X-Pro2.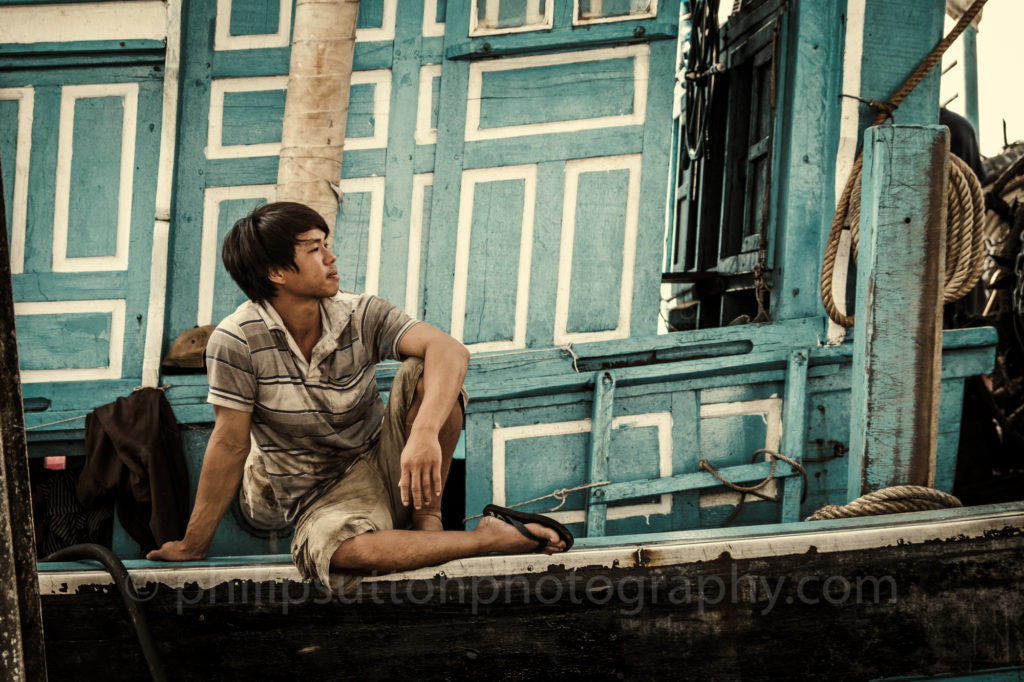 The days of 2016 ticked quickly by, and on the 2nd of this month, my wife and I headed off to Vietnam for a two-week break (school holidays here in Western Australia). She was happy to spend time with her parents, so I grabbed my old Honda Cub that her dad keeps stored away for me, and headed off into the mayhem of Ho Chi Minh's city traffic. After many wonderful photographic experiences there, then a three day trip to the Mekong Delta, three days with my wife in Nha Trang and Hoi An – I am very happy to report the that Fuji's were more than equal to the task.
Here now is the point of this missive. My photographic style has developed over the last few years to where I now only shoot people. I have no desire whatsoever for landscapes, scenery or nature photography. I just absolutely love recording people being people. In essence, all of my photography is street or environmental portraiture. That is why Asia is such a wonderful place to record the lives of fellow humans – going about their 'dayliness' – doing what they have always done, and hopefully, without me interfering or interrupting that cycle. However, whether I used my big Nikons, (or my earlier 'flutter') – the Fuji's, I never enjoyed the way that as soon as I pulled a camera up to my eye, I mostly interrupted the flow of life around me. Try it some time – stand somewhere where people can just see you, or they are barely aware of your presence, then pull a camera up to your eye. Nine times out of ten they will turn and look at you. There seems to be an inbuilt alarm in all of us – as soon as somebody tries to photograph us, we immediately become aware of this.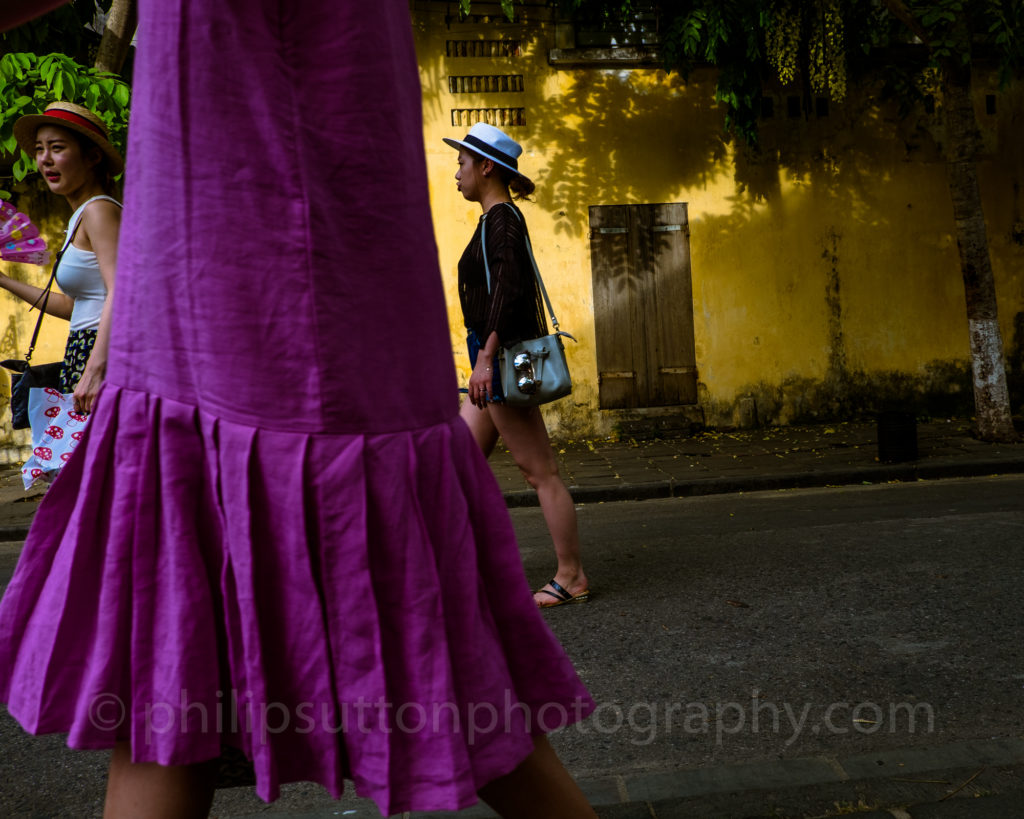 Whether it was good or bad, I always got a reaction when I pulled a camera to my eye to photograph somebody. It was seldom hostile, but it ALWAYS interrupted the flow of whatever they were doing. Then they had to decide whether to pose, or laugh or get embarrassed, or stop what they were doing, or get aggressive or whatever – but there was always a reaction. This was the part of environmental portraiture that I did not enjoy. I always felt that I should not be there, I was an imposter interrupting the flow of life and interfering with their livelihood. By that I mean, most people I photograph on the streets of Asia are usually working, or selling something, or making something or going somewhere to work or coming back from working.
Here is where the 'eureka moment' hit me. The very first time I flipped open the rear screen and shot from waist-level, I realised that I was onto something. Suddenly people did not look at me or freeze up when a photo was taken. I can honestly say that with the 6,000 odd photos I took on this trip, (the majority of them taken at waist level), that over 95% of people had no idea that a picture had been taken. What a transformation.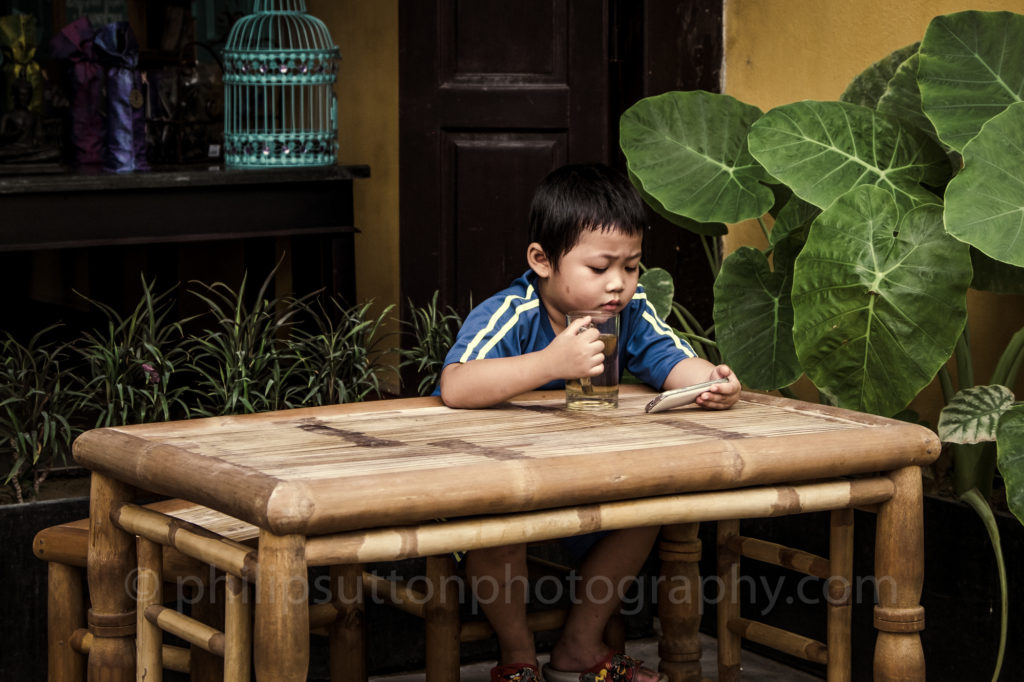 Now I was no longer an imposter, interrupting their flow of life, I had now suddenly become a guy out there on the street looking down fiddling with something – and people took no notice of me. I truly believe this is a revolution compared to how I always did things before. I can never go back to the old style of shooting. I still pull the camera up to my eye sometimes – if I have engaged with folks, or if I am called over to take somebody's picture, or I am doing a series of photos and people can see what I am doing – but the majority of my photography now is all shot at waist level. I had tried many times in the past to shoot with my X100 from the waist, but of course it was all guesswork and mostly people had things chopped off or the shot was framed incorrectly.
I have completely changed the way I shoot and my style of shooting. I slowly walk along taking in everything around me. On the odd occasion somebody makes eye contact I smile and always act friendly. However, when I see my shot or can perceive that one is coming up in the distance, I make no eye contact with anybody. I look around me just like a casual observer taking things in. My X-T1 is on a long strap around my neck so that it hangs at waist level. The rear screen is flipped open at 90 degrees to the camera. When I am about to take the shot I just pause (all the while still looking down), I can easily adjust my focus point, change the exposure compensation as I do for each shot, zoom my 18-55 and then fire off the amount of shots that I need. This is such a beautiful process – it does not interrupt anybody around me, no eye contact has been made so nobody is expecting me to act or do something. I have the camera on electronic shutter so everything is silent.
The one great heartbreak is that why on earth did Fuji not put the tilting screen on the X-Pro2 – oh my goodness? I actually prefer the rangefinder style of camera for what I do. I shoot with my left eye and on the T1, it puts my right eye too far over my right hand and covers the back focus button on the T1 – very annoying. I would much prefer to have two Fuji X-Pro2 cameras. My poor X-Pro1 has now become obsolete because it does not have a tilting screen. There is no way on earth I could go back to shooting the old way – sticking my camera into people's faces and interrupting the flow of their lives. Therefore, I am going to sell the X-Pro1 now and order the X-T2 as my second camera (this will have the 55-200 on board). To me the X-T1 is plenty good enough (both in focus and image quality), but it seems silly buying a camera now that is about to be discontinued. I guess to keep up with the built-in-obsolescence of the digital world I will have to get the latest model.
I can really see the difference in the photos that I took this time. In all of them people are not posing, they are completely relaxed and just going about their daily lives. For example – the photo of the two men. One is reaching out to ask for alms and the other is counting his money. I love the counter-play that is happening here – the guy with the great wad of cash and the pauper with nothing! However, I know for sure if I had pulled a camera up to my eye to take this photo, that the man would have stopped his counting and the beggar would have had a different reaction too – a magic moment would have been lost forever.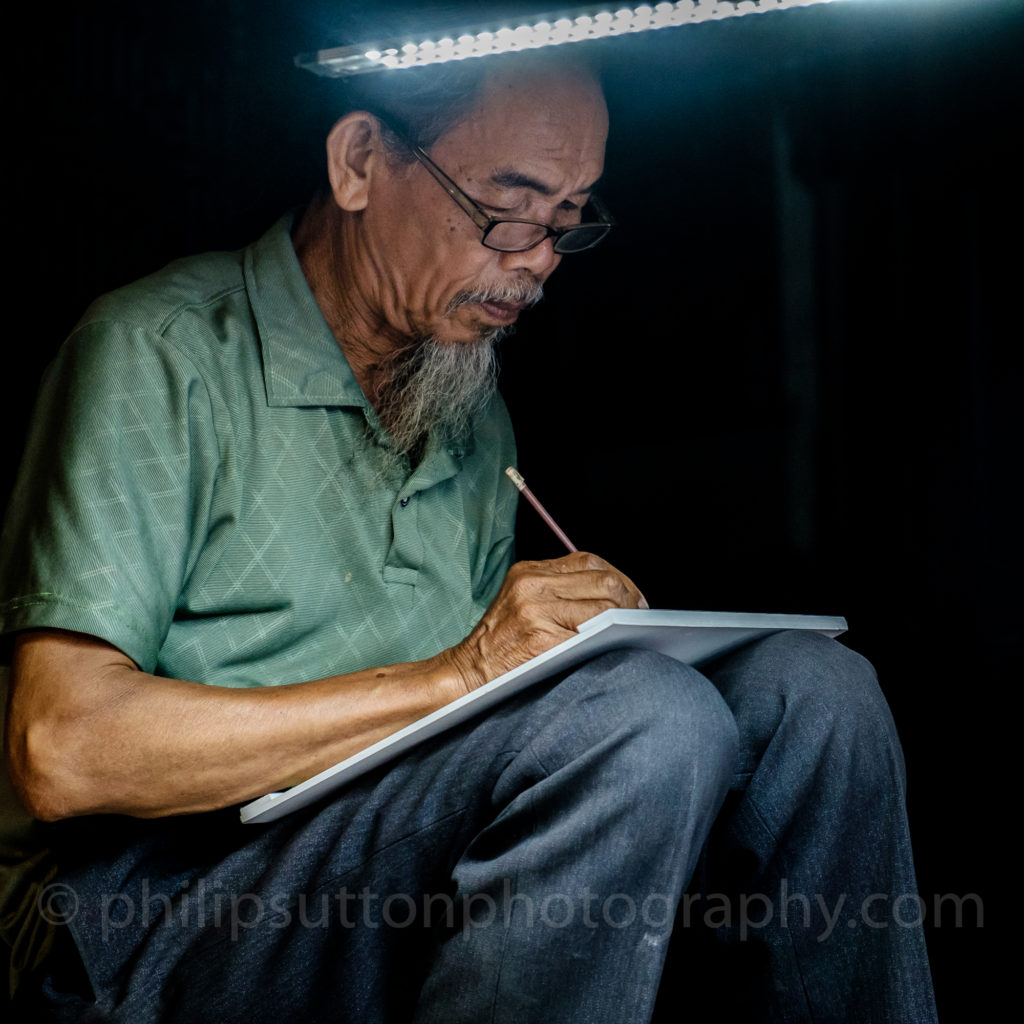 I have many keepers from this trip and I am slowly processing them on L/R – so for now here is just a few shots to illustrate my point. I have almost a month booked in December/January and I am going to Myanmar for the third time. This is the most amazing place in all of Asia. There is something about the lighting there, the innumerable temples in Bagan, the women with the thanaka paste on their faces, the monks in their dark orange robes, the grubby urchins playing blissfully in the streets – the opportunities there are endless. Now thanks to the wonderful Fuji X-T1/2 I have developed a new style of photography, one that not only does not disturb or cause distress to the people, but also one where I can truly capture images of people being people – going about their 'dayliness' without a hint of disturbance on my part. Thank you Fuji.
Philip Sutton: philipsuttonphotography website + Instagram @finartfoto