Could this be Silhouettes of the New FUJIFILM Roadmap Lenses? :: New Size Comparison XF23mmF2 Vs. XF35mmF2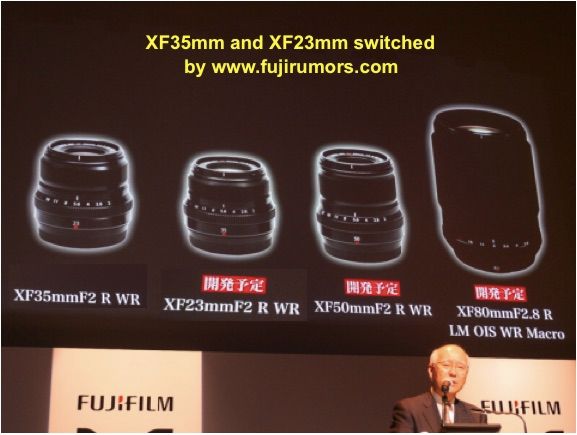 I've switched the lens names (35 and 23) to make the 23 look smaller than the 35 – original image here
[wysija_form id="1″]
The New Roadmap Lenses
Just a few days ago, I reported about the first images of the new lenses Fuji added to their roadmap: the 23mmF2 (scheduled for 2016), the 50mmF2 and the 80mmF2.8 1:1 Macro (both scheduled for 2017). But the images didn't convince us.
The XF23mmF2 looked bigger than the 35mmF2. Then, corrected for distortion by FR-reader exkeks, the XF23mmF2 was about the same size of the XF35mmF2. That's pretty compact, but some of us hoped for something even smaller (pancake lens like the X100-lens).
Right after the post, a source contacted me and confirmed that the 23mmF2 will have the same design of the XF35mmF2, but the distorted picture is making the XF23mmF2 look bigger than it really is. I'll grab the occasion to ask this source, if the size 23F2 Vs 35F2 shown below in this article is more realistic.
The New Size Comparison
thanks to the FR-reader for the link :)
The Swedish store cyberphoto already put the new Fuji Roadmap Lenses on their site. No specs, no price, no details… but just what could be the silhouettes of Fujifilm's upcoming lenses.
I can't tell you if these silhouettes are based on internal Fujifilm material that cyberphoto has photoshopped to show only outlines or if these are just randomly made by cyberphoto. But what I know, is that the Swedish store is not new to leaks (do you remember for example the smiling Fuji rep leak?).
Before we analize the images, keep in mind that only the 23mmF2 is close to be announced (rumor here). So the lens design should be final at this stage and maybe the first prototypes already out for testing. The XF50mmF2 and XF80mmF2.8 will come only in 2017. Fuji might have an approximate design now, but nothing 100% final.
In any case, don't take these silhouettes as the real thing. So finally, after quite a long time, I can say again: take it with a grain of salt ;) .
Now let's analyze the silhouettes.
Cyberphoto: 23mmF2 – 50mmF2 – 80mmF2.8
stay tuned,

Fuji X Forum, Facebook, RSS-feed and Twitter
Fujifilm X-T2: USA: BHphoto / AmazonUS / Adorama / CANADA: AmazonCA / EUROPE: AmazonDE / Calumentphoto DE / AmazonUK / AmazonITA / AmazonFR / AmazonESP / PCHstore / WexUK / AUSTRALIA: CameraPro
XF23mmF2 R WR
Not X100-lens small, but very compact anyway. And probably also sharp wide open (whereas the X100-lens is rather soft when shooting macro at F2).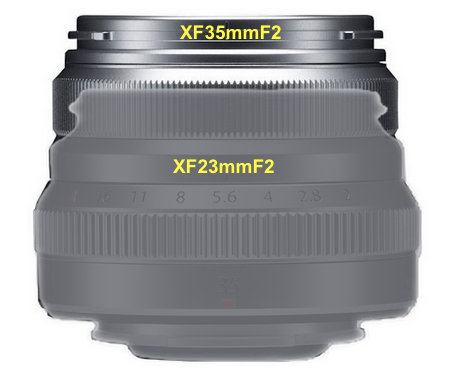 _ _ _
XF80mmF2.8 R OIS 1:1 Macro
The shape is the same of the 80mm Fuji showed in Japan to the Press. One Stop slower than the 90mm, but with OIS, 1:1 Macro and compatible with both, the 1.4x and 2.0x Fujinon Teleconverter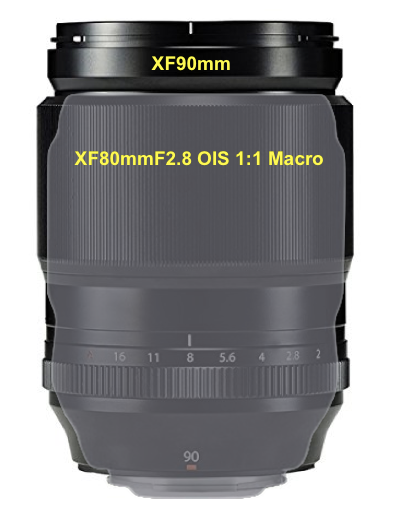 _ _ _
XF50mmF2 R WR
In this case, cyberphoto took nothing else then the shape of the XF35mmF2. So definitely not the real thing. And probably, at this stage, it's too early to have any accurate idea of the XF50mm size and shape

Push READ MORE to see the lens silhouettes screenshots taken from Cyberphoto