Fuji Manager T. Ueno: "We are in a Very Good Position to make a Medium Format Camera… but no Plans for now!"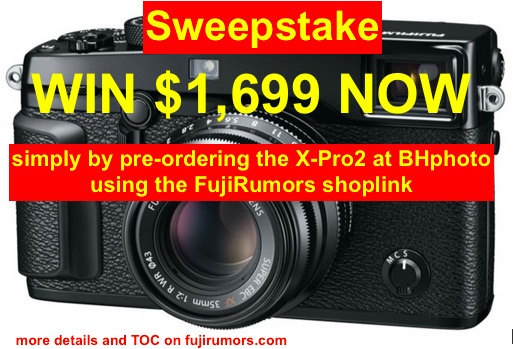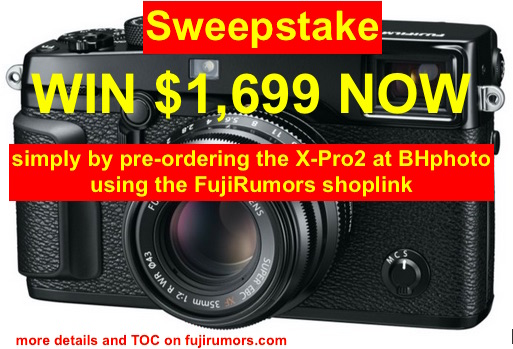 Pre-order Options
Win $1,699 with Fujirumors & BHphoto

Fujifilm X-Pro2: USA: BHphoto – Win $1,699 by pre-ordering at BH via FR* / AmazonUS / Adorama / EUROPE: AmazonDE / AmazonUK / WexUK / PCHstore / AmazonITA / AmazonFR / AmazonESP /   AUSTRALIA: CameraPro
* pre-order the X-Pro2 (body or kit) at BHphoto using the FujiRumors shoplink and you'll already have entered the sweepstakes. The lucky winner will get an Amex gift card pre-valued at $1,699.00. By joining this Sweepstakes, you agree with the Full Terms and Conditions. More detailed description of the Giveaway here.
_ _ _
After many hours of extreme X-Pro2 live blogging, I finally found the time to go through some of the plethora of first looks published about the X-Pro2… and each one is triggering my GAS more and more.
One of these was an interview with Fuji Manager Takeshi Ueno at bjp-online. The talk was about the X-Pro2, but at the end the journalist asked about Medium Format (rumored here), and Takeshi Ueno answered:
"We are in a very good position to make a medium format camera, as we make camera bodies, sensors and lenses. We already make the lenses for Hasselblad, so we have that expertise.
At the moment Fuji is not planning to launch a medium format camera, but we are conducting research and testing sensors in this area.
We have a good history in the medium format market, and I think we would be successful again. We have the technology to make a very modern and high quality camera, but right now we are only investigating."
At the end the journalist said:
"Ueno agreed that now would be a very good time for Fuji to enter the market, but it seems that not everyone in the company is quite as convinced."
Now add to this this rumor of one of our sources, who was right in the past, and we can start to be cautiously optimistic. In any case, if it ever becomes true, it probably won't see the light that soon.
And just in case somebody at Fuji would be interested in our opinion (and you know they do, right?), then let's say it in the comments and drop your vote in the Poll.

Loading ...