Fujifilm Medium Format Rumor: Here is the answer to one of the 7 Crucial MF Questions ! (Source Right in the Past).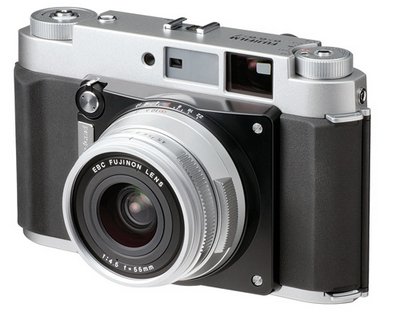 Today we might have found the answer to the 2nd most voted of our 7 crucial Medium Format questions:
According to a source, who was right in the past (thanks), Fujifilm is right now putting lots of R&D into creating a complete new interchangeable lenses Medium Format camera system (so no fixed lens MF).
Of course, take the grain of salt. This is still Not really the Medium Format Rumor Breakthrough we are waiting for, since, until now, no trusted source confirmed that Fuji is really working on it!
And while I'm dazzled by this rumor, I know that a humble enthusiast photographer like me is probably not the target of such a camera, and it would be out of my budget anyway (not even tax deduction for teachers buying cameras :( ).
But I believe that an interchangeable lenses Medium Format Fuji could find its niche amongst PRO's and turn out to be a profitable business for Fujifilm.
Now, I have no idea how much this camera would cost, but if it was priced somewhere between the Pentax 645D and the Pentax 645Z digital MF cameras, then the MF-Fuji might even become Fujifilm's new golden egg laying goose (this, and the Hello Kitty Instax, of course :) ).
It's hard to get on MF rumors, really hard… but it's not a Mission Impossible. So stay tuned on FR via Facebook, RSS-feed and Twitter,
I'll try to get a confirmation by trusted sources ASAP… since then, take the grain of salt, and then start dreaming :)
X-T1 (save $300): AmazonUS / BHphoto / Adorama / Pictureline /

Loading ...
US X-DEALS
XF Lenses
XF90mm (save $150): AmazonUS / BHphoto / Adorama / [shoplink 40099 ebay]eBay[/shoplink]
XF10-24mm (save $150): AmazonUS / BHphoto / Adorama / Pictureline /
XF14mm (save $150): AmazonUS / BHphoto / Adorama / Pictureline /
XF27mm (save $150): AmazonUS / BHphoto / Adorama / Pictureline /
XF35mmF1.4 (save $150): AmazonUS / BHphoto / Adorama / Pictureline /
XF60mm (save $150): AmazonUS / BHphoto / Adorama / Pictureline /
XF16mm (save $200): AmazonUS / BHphoto / Adorama / Pictureline / [shoplink 40100 ebay]eBay[/shoplink] XF18mm (save $200): AmazonUS / BHphoto / Adorama / Pictureline /
XF23mm (save $200): AmazonUS / BHphoto / Adorama / Pictureline /
XF56mm (save $200): AmazonUS / BHphoto / Adorama / Pictureline /
XF16-55mm (save $200): AmazonUS / BHphoto / Adorama / Pictureline / [shoplink 40101 ebay]eBay[/shoplink] XF50-140mm (save $200): AmazonUS / BHphoto / Adorama /
XF18-55mm (save $200): AmazonUS / BHphoto / Adorama / Pictureline /
XF18-135mm (save $200): AmazonUS / BHphoto / Adorama / Pictureline /
XF55-200mm (save $200): AmazonUS / BHphoto / Adorama / Pictureline /
XF 56mm APD (save $400): AmazonUS / BHphoto / Adorama / Pictureline /
X series Cameras
X-Pro1 + 23mm + 27mm (save $900): Adorama / BHphoto/ AmazonUS /
X-T1 (save $300): AmazonUS / BHphoto / Adorama / Pictureline /
X-T1 GS (save $300): AmazonUS / BHphoto / Adorama / Pictureline /
X-T1 + 18-55 (save $300): AmazonUS / BHphoto / Adorama
X-T1 + 18-135 (save $300): AmazonUS / BHphoto / Adorama
X100T (save $200): AmazonUS / BHphoto / Adorama / Pictureline /
X-T10 (save $100): AmazonUS / BHphoto / Adorama
X-T10 + 18-55 (save $100): AmazonUS / BHphoto / Adorama
X-T10 + 16-50 (save $100): AmazonUS / BHphoto / Adorama
X-T10 + 18-55 + 55-200 (save $400): AmazonUS / BHphoto / Adorama
X-T10 + 16-50 + 50-230 (save $300): AmazonUS / BHphoto / Adorama
X-E2 (save $100): AmazonUS / BHphoto / Adorama / Pictureline /
X-E2 + 18-55 (save $100): AmazonUS / BHphoto / Adorama / Pictureline
X30 (save $100): AmazonUS / BHphoto / Adorama / Pictureline /
X-A2 body or kit (save $50): AmazonUS
_ _ _
To see the deals in: AUSTRALIA / SPAIN / BELGIUM / GERMANY / UK / FRANCE / ITALY / POLAND / FINLAND / DENMARK / NETHERLANDS / CANADA Click here