First Image Tagged #Fujifilm #XT2 on Instagram :: Typo or is this Really the First X-T2 Image Shared Publicly?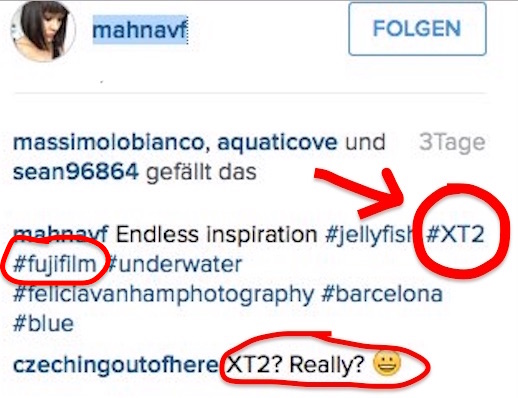 Fujifilm X-Pro2
USA: BHphoto / AmazonUS (IN STOCK) / Adorama / CANADA: AmazonCA / EUROPE: AmazonDE / AmazonUK / WexUK / PCHstore / AmazonITA / AmazonFR / AmazonESP /   AUSTRALIA: CameraPro
Save $100 on X-Pro2 + 35mmF2 at: AmazonUS / BHphoto / Adorama
_ _ _
Thanks to reliable FujiRumors sources we already know since months that the Fujifilm X-T2 will come this summer.
It's hard to say the exact month (at the moment the announcement is rumored to be in June), because Fujifilm might decide to push it back a little bit to favor the (currently very strong) X-Pro2 sales. However, Fujifilm feels the pressure of the X-Shooter community to release the X-T2 (as you could read on this interview with Fuji Managers)… they can't wait too long to release it… Summer release sounds just right for me.
That said, if what I share today with you isn't a typo, the first Fujifilm X-T2 Pre-Production samples have already been shipped to Beta Testers. In fact there is an image, that Fashion Photographer Felicia Van Ham tagged on Instagram with #XT2 and #Fujifilm (thanks to the FR-reader for the link).
Typo or not? I don't know.
But what we know thanks to the "X-Pro2 boxes leak" in late October 2015, is that Fujifilm can send pre-production cameras to Beta-Testers at least 2½ or 3 months ahead of the announcement of a new product… and if the June Announcement Rumor is correct, there could be already Beta-Testers out there with an X-T2.
The wait for the X-T2 is not that long anymore… but it seems that this does not influence negatively the X-Pro2 sales, which are currently very strong ("more pre-orders than expected", as Fujifilm announced here).
Best X-E2 Deal Ever – exp. March 8
X-E2 body + hand grip for $499 – Silver / Black
X-E2 kit + hand grip for $699 – Silver / Black
OFFICIAL US-X DEALS – exp. April 2
X-SERIES CAMERAS
Fujifilm X-Pro2 + 35mmF2 WR (save $100): BHphoto / AmazonUS /Adorama /
X-T1 + 18-135 (save $300): BHphoto / AmazonUS /  Adorama
X-T1 + 18-55 (save $300) BHphoto / AmazonUS / Adorama
X-T1 Black Body (save $300): BHphoto / AmazonUS / Adorama
X-T1 Graphite (save $300): BHphoto / AmazonUS / Adorama

X-T10 body (save $150): BHphoto / AmazonUS / Adorama
X-T10 + XF 18-55 (save $150): BHphoto / AmazonUS / Adorama
X-T10 + XC 16-50 (save $150): BHphoto / AmazonUS / Adorama
X-T10 + XC16-50 + XC50-230 (save $350): BHphoto / AmazonUS / Adorama
X-T10 + 18-55 + 35mmF2 (save $350): BHphoto (silver bundle / black bundle)
X-T10 + 35mmF2 (save $250): BHphoto / AmazonUS / Adorama
X-T10 + 35mmF2 + 18-55 (save $250): BHphoto / AmazonUS / Adorama
X-T10 + 35mmF2 + 16-50 (save $250): BHphoto / AmazonUS / Adorama
X100T (save $200):  BHphoto / AmazonUS / Adorama / Pictureline
X30 (save $100): BHphoto / AmazonUS / Adorama / Pictureline

XF LENSES
XF 56mm APD (save $400): BHphoto / AmazonUS / Adorama
XF 90mmF2 WR (save $200): BHphoto / AmazonUS / Adorama
XF 10-24mm (save $200): BHphoto / AmazonUS / Adorama
XF 16mmF1.4 WR (save $200): BHphoto / AmazonUS / Adorama
XF 23mm (save $200): BHphoto / AmazonUS / Adorama
XF 56mm (save $200): BHphoto / AmazonUS / Adorama
XF 50-140mmF2.8 WR (save $200): BHphoto / AmazonUS / Adorama
XF 18-135mm (save $200): BHphoto / AmazonUS / Adorama
XF 60mm (save $200): BHphoto / AmazonUS / Adorama
XF 14mm (save $200): BHphoto / AmazonUS / Adorama
XF 18-55mm (save $200): BHphoto / AmazonUS / Adorama
XF 16-55mmF2.8 WR (save $200): BHphoto / AmazonUS / Adorama
XF55-200 (save $200): BHphoto / AmazonUS

XF 18mm (save $100): BHphoto / AmazonUS / Adorama
XF 27mm (save $100): BHphoto / AmazonUS / Adorama
XF 35mmF1.4 (save $100):  BHphoto / AmazonUS /Adorama
XF100-400 + 1.4x TC (save $350): BHphoto / AmazonUS / Adorama
XF50-140 + 1.4x TC (save $350): BHphoto / AmazonUS /