DPR Fujifilm Managers Interview: Fixed Lens Fujifilm GFX, X100V Success, Skipping Full Frame was Good Decision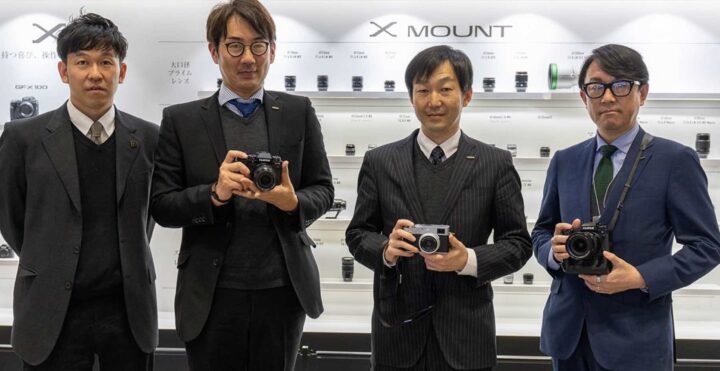 DPReview has interviewed four Japanese Fujifilm managers at CP+.
Down below you can get the summary of what has been said.
Market Situation
Fujifilm believes that demand for digital cameras will remain relatively stable, with some fluctuations
during Covid years people could not travel, so they maybe spent more money on gear than travels
Some people may have bought cameras because there were articles about shortages of components.
2022 was a strong year for Fujifilm with the introduction of the fifth generation gear
core users in the market are enthusiasts
Fujifilm is quite optimistic about 2023, but it depends on whether the industry can develop interesting products
"We certainly have some introductions coming that we're very excited about".
Was Skipping Full Frame the Right Decision? The market seems to move towards Full Frame
the decision has been very good for us as a business
GFX system has become extremely important for Fujifilm's offering
we have two extreme systems, which means we don't have to compromise but can try to deliver the best among those two systems.
for the GFX, the focus is absolute image quality. For the APS-C system, we look at how we can achieve image quality in a compact, lightweight body.
our direction is set, and there's no middle ground. I think it's a good strategy for us.
regardless of whether it's APS or full frame or large format, it's whether you can come up with a better, new offering that benefits the end user
X-H2s – Receptions and Challenges
well received by media, dealers and end users
People are seeing that we can also make cameras that can shoot fast action like wildlife, which is huge
now dealers can recommend the X system to all kind of photographers
this has positively affected X-mount as a whole
first model of new generation is always a challenge: high-speed processing, heat, cooling with the new stacked sensor and new processor combination
sports and press photography have higher demands than other categories
improving autofocus was also a huge challenge
probably 10% of X-H2s shooters are professional photographers (wildlife and press photographers)
professional videographers may represent the most users in terms of numbers.
X-H2S was our first attempt at incorporating FTP
X-H2s is a hybrid camera
Fuji's target for video is not for studio production, but small startups, content creators, small companies who want cinema quality
more semi-pros and enthusiasts will buy the camera, but it's important to get the blessing of top professionals. If the pros are using it, and that's visible, it will give confidence to enthusiasts
thanks to X-H2s, we see users of other systems switching to Fujifilm for video
many users are choosing our system due to top-level image quality and performance
also, having a stacked sensor, with that spec, at such an affordable price is attractive
High Resolution X-H2 and High Speed X-H2s: Can you build a lineup around two such extreme sensors?
currently Fujifilm offers the fifth generation cameras (40MP and 26MP stacked) and the forth generation cameras (26MP non-stacked)
We have more options and can choose the best combination for each
Sometimes, 40MP might be overkill, and 26MP might be more efficient, and that sensor delivers very good image quality
Video Future
video is important for the future
Creating content is usually a mixture of stills and video, and that trend will continue
to be successful in the imaging industry, it's very important to be good on the video side
a dedicated X series video camera? We believe there's potential […] We know we have the technology, so we're always looking into the possibility
GFX System
GFX system has increased the market share for digital medium format
We've never just targeted [the medium format] market alone, because our sales alone would be bigger than that market
With the GFX system we target also high-end full frame users
just as 3 years ago, still today about 20% of GFX users are professionals, and 80% are amateurs, but with a much larger number of users
tilt shift lenses will help to grow in the professional market
X100 Series
X100 series is Fuji's most iconic model
people pose on TikTok with X100V. It's a fashion item and cool to own. This helps to appeal to younger generations
Not only the young, every generation loves the X100V
X100 line is the gateway to the X system
Fujifilm has increased production capacity of X100V, but the demand keeps growing. We are trying our best to catch up with demand
Fixed Lens GFX?
Never say never, right?
a manager jokes and says "if it was the size of the X100V I'd use it"
it depends on the size
Fujifilm is aware of the requests for such a camera
If we made a GFX format with a fixed lens, it might be a similar gateway to our GFX system, which is interesting for us*
* DPR wants to make clear that Fujifilm did not say that such a product is in the works. Fujifilm just speculated that a fixed lens GFX could be a gateway camera to the GFX system like the X100 cameras are for the X system
You can read the full review at DPReview.
Fujifilm Facebook Groups