Disappointed with Fuji X-T1 Firmware 4.0? Here is Why!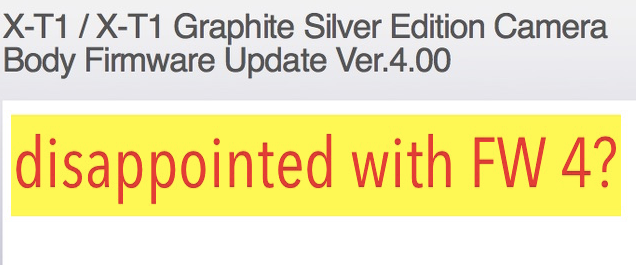 It doesn't work, no AF-improvement, it doesn't focus between each shot in CL or CH, no faster AF in low light! This is some of the negative feedback we could read in the comments on FR and at the Fuji-X-Forum here.
So what… is Firmware 4 just crap? Well, sometimes (often?) it's just a matter to find the right settings. Here is an extended list tips:
1) Enable Mechanical Shutter (MS) only. The camera won't focus between each shot in CL or CH tracking, if ES only (electronic shutter) or MS+ES is enabled. Shooting fast-moving subjects with the ES doesn't really make sense (rolling shutter effect).
2) Turn Off Face Detection! If you have Face Detection put to ON, the camera will focus only with CDAF. The faster Phase Detection AF (PDAF) works only if Face Detection is disabled. [UPDATE: years after this article was written, a firmware update for certain Fujifilm cameras enabled phase detection also when using face detecion. New Fujifilm cameras have this already integrated at launch.] 3) High Performance Mode ON: many don't even know that this features exists, like Calipedro here. It's definitely worth to sacrifice a bit of battery life. Fuji should put this feature ON as standard.
4) Keep you subject in the center: Phase detection pixels are located in the center of the sensor. Keep your subject in the center and PDAF will give you a faster AF.
5) Use all Phase Detection Pixels with Zone AF 5×3: To take advantage of all the phase detection pixels, set you Zone AF box to 5×3 and place it in the center of the frame. Within this 5×3 box tracking will be very smooth… at least that's my experience with my crazy dog.
6) Increase the size of the AF-box: If you use Single Point AF, increase the size of the AF-box as much as possible.
7) PRE-AF: The camera will continuously adjust focus, even if the shutter is not pressed (of half pressed). This can help to get the first shot in focus quicker. Downside: more battery drain.
8) LENS FIRMWARE: make absolutely sure that the lens is updated to the latest firmware version.
9) Different Lens, Different results: According to the lens you use, the AF-improvement will be more or less (or not) visible. For example, I was very happy with the improvement of my 55-200, but I can't really say if the 18-55 or 14 has become faster.
10) The learning curve: Practice and get used to the new features. See what works best in which situation
11) Let Rico study for you. Rumors has it, that Rico will update his X-T1 book and tell us how to make the best out of our new Fuji X-T1 FW 4. Once it's out, all we have to do is to read his updated book.
So, do you have more tips? Then share them in the comments.
And don't stop to share your findings on Fujirumors and at the Hot Firmware threads of the Fuji-X-Forum.
enjoy your day… and FW 4.0 :) ,

Fuji X Forum, Facebook, Google+, RSS-feed and Twitter