Best Prime 2015? "No Debate: a one-horse race: Fujinon XF 90mmF2 – New King of Sharpness!" – Imaging Resource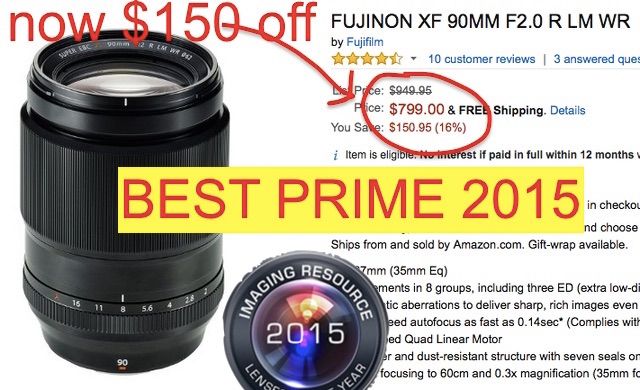 XF90mm (save $150): USA AmazonUS / BHphoto / Adorama / EUROPE: AmazonDE / AmazonUK / AmazonITA / AmazonFR / WexUK / PCHstore / AUS: Camerapro
_ _ _
Over the last years, the terrific quality of Fujinon lenses has been awarded many times. These recognitions are no surprise for X-shooters, who use these lenses on a daily basis. It is actually the main reason why we bought into the X-system (so says the FR-Poll taken by Fujifilm and displayed to the press).
But the challange now for Fujfilm is to improve, what is already amazing… and with the XF90mmF2 WR lens, Fuji won this challange. It is a spectacular lens. The best Fujinon lens so far.
That's why imaging-resource, when they declared the best prime of 2015, said:
"There was no debate in our discussion for the Best Prime Lens of 2015 – it was a one-horse race and the Fujinon 90mm f/2 was that horse. […] this lens is the new king of sharpness [… ] a rare case of one's jaw dropping when looking at a blur chart!"
The choice for the best zoom was much harder, with three zooms conteding the Award. At the end it goes to the Canon 11-24mmF4 L, and the second place to the Fuji XF50-140mmF2.8 (now $200 0ff).
Read more at imaging-resource
XF90mm (save $150): USA AmazonUS / BHphoto / Adorama / EUROPE: AmazonDE / AmazonUK / AmazonITA / AmazonFR / WexUK / PCHstore / AUS: Camerapro
XF50-140mm (save $200): AmazonUS / BHphoto / Adorama /


BIG US X SALE
XF Lenses
XF90mm (save $150): AmazonUS / BHphoto / Adorama /
XF10-24mm (save $150): AmazonUS / BHphoto / Adorama / Pictureline /
XF14mm (save $150): AmazonUS / BHphoto / Adorama / Pictureline /
XF27mm (save $150): AmazonUS / BHphoto / Adorama / Pictureline /
XF35mmF1.4 (save $150): AmazonUS / BHphoto / Adorama / Pictureline /
XF60mm (save $150): AmazonUS / BHphoto / Adorama / Pictureline /
XF16mm (save $200): AmazonUS / BHphoto / Adorama / Pictureline /
XF18mm (save $200): AmazonUS / BHphoto / Adorama / Pictureline /
XF23mm (save $200): AmazonUS / BHphoto / Adorama / Pictureline /
XF56mm (save $200): AmazonUS / BHphoto / Adorama / Pictureline /
XF16-55mm (save $200): AmazonUS / BHphoto / Adorama / Pictureline /
XF50-140mm (save $200): AmazonUS / BHphoto / Adorama /
XF18-55mm (save $200): AmazonUS / BHphoto / Adorama / Pictureline /
XF18-135mm (save $200): AmazonUS / BHphoto / Adorama / Pictureline /
XF55-200mm (save $200): AmazonUS / BHphoto / Adorama / Pictureline /
XF 56mm APD (save $400): AmazonUS / BHphoto / Adorama / Pictureline /
X series Cameras
X-Pro1 + 23mm + 27mm (save $900): Adorama / BHphoto/ AmazonUS /
X-T1 (save $300): AmazonUS / BHphoto / Adorama / Pictureline /
X-T1 GS (save $300): AmazonUS / BHphoto / Adorama / Pictureline /
X-T1 + 18-55 (save $300): AmazonUS / BHphoto / Adorama
X-T1 + 18-135 (save $300): AmazonUS / BHphoto / Adorama / Pictureline
X100T (save $200): AmazonUS / BHphoto / Adorama / Pictureline /
X-T10 (save $100): AmazonUS / BHphoto / Adorama
X-T10 + 18-55 (save $100): AmazonUS / BHphoto / Adorama
X-T10 + 16-50 (save $100): AmazonUS / BHphoto / Adorama
X-T10 + 18-55 + 55-200 (save $400): AmazonUS / BHphoto / Adorama
X-T10 + 16-50 + 50-230 (save $300): AmazonUS / BHphoto / Adorama
X-E2 (save $100): AmazonUS / BHphoto / Adorama / Pictureline /
X-E2 + 18-55 (save $100): AmazonUS / BHphoto / Adorama / Pictureline
X30 (save $100): AmazonUS / BHphoto / Adorama / Pictureline /
X-A2 body or kit (save $50): AmazonUS