Announced: Metz Mecablitz 44 AF-2 for Fujifilm X-series!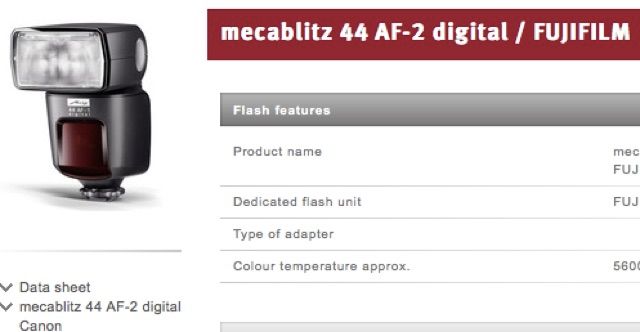 Yesterday a New source told us that the Metz 44 AF-1 will get an updated very soon.
And today the update is official. Metz just released the Mecabltz 44 AF-2, with support for Fujifilm X-series cameras (the previous generation supported just the Nikon/Fuji hybrids, like the S series).
You can go through all the specs at the official product page here. There is also a German presentation of the Flash at the Swiss site fotointern.ch (translation), who says that the flash will be available at the beginning of December (this has been confirmed also by a New Source – thanks).
Push the READ MORE Button for the Full Official Press Release
The Metz bestseller now improved
The new Metz mecablitz 44 AF-2 replaces the previous model mecablitz 44 AF-1
Zirndorf – With the new Metz mecablitz 44 AF-2, Metz has improved one of the best sold flash units in Germany. For almost 5 years now, the system flash Metz mecablitz 44 AF-1 has enjoyed great popu- larity amongst price-conscious and dedicated photographers. Metz attended to the customer requirements which appeared during this time and has now improved this device with the following features:
Controllable high-performance LED video light
To create additional light for video recording, the new Metz mecablitz 44 AF-2 is now featured with a high-performance LED. The LED light is easily controllable in 4 levels.
Solid metal base
Due to the significant metal base* with quick lock, the Metz mecablitz 44 AF-2 is set more stable on the camera now.
High speed synchronisation (HSS/FP)**
With the new system flash function, the Metz mecablitz can cope with the current camera functions. This function supports the pho- tographer whilst lightning with backlight. It especially makes sense for portraits with very bright daylight.
New version now also for FUJIFILM
Like any other mecablitz system flash unit, the new flash unit matches perfectly to the digital cameras of the leading manufactur- ers. The available versions are: Canon, Nikon, Olympus/ Panasonic/ Leica, Pentax, Sony, Samsung and now also Fujifilm. With the mecablitz 44 AF-2 digital you can of course use, besides numerous special features, the sophisticated flash exposure modes of the par- ticular system cameras.
To be always up-to-date in relation to the latest software, you can make updates easily via the USB-interface of the Metz mecablitz 44 AF-2 digital. Thus the flash remains compatible also for new ap- pearing camera models.
Metz mecablitz 44 AF-2 digital
Simple operating concept with LED-buttons
Technical specifications mecablitz 44 AF-2 digital Flash output
• High max. guide number 44 for ISO 100/21°
• High flash numbers (e. g. 270 full flashes with
NiMH batteries [2100 mAh])
• Flash delay 0.1– 3 sec. (depending on power source and flash output)
Basic configuration
• Simple operating concept with LED-buttons
• Vertical (+90°) and horizontal (300°) swivel reflector
• Motorised zoom for 24–105 mm illumination
• Integrated wide-angle diffuser for 12 mm illumination • Flip-out reflector card
• Modelling-light (permanent light to check shadow)**
• Automatic unit shut-off
• Wake-up function by camera
• Metal base* with quick lock
• High performance LED video light, adjustable in 4 levels
Flash functions
• TTL-flash mode (digital only)
• Manual flash mode with 4 lighting levels
• Automatic fill-in flash
• 1st and 2nd shutter curtain synchronisation** • High speed synchronisation (HSS/FP)**
• Pre-flash for red-eye reduction**
Power supply
• 4 x AA alkaline-magnesium or lithium batteries • 4 x AA NiMH rechargeable batteries
Availability
The mecablitz 44 AF-2 will be available from calendar week 48.
* Not for version Sony Multi Interface
** Dependent on camera function