TIME :: Andrew Quilty Documents Life in Afghanistan with Fujifilm X-Pro2 + Is the X-Pro2 the Perfect Reportage Camera?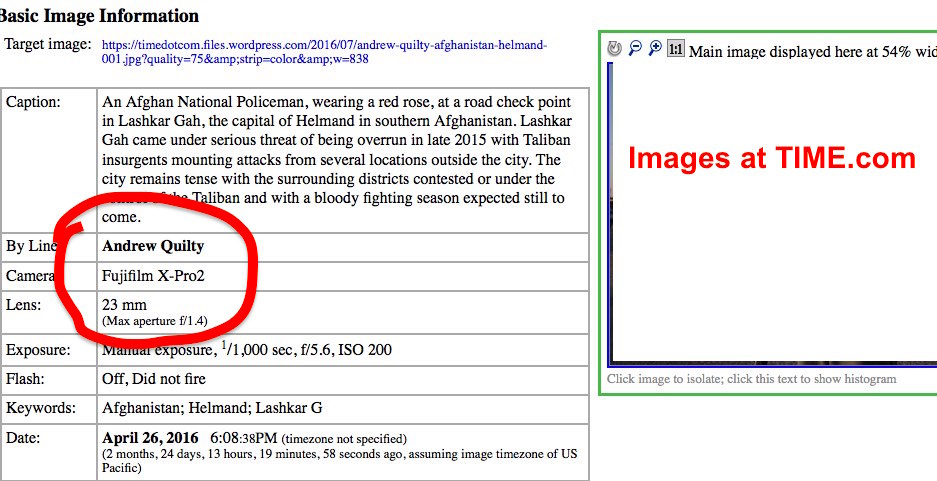 Today's story brings us deep in the heart of Afghanistan, where since three years now Andrew Quilty is documenting the ongoing war and life, using mostly the Nikon D810.
But since a few months he added the Fujifilm X-Pro2 + XF23mm lens to his equipment. And looking at the EXIF data of his images, it seems that more and more of his work is now done with the X-Pro2. You can see his images at the TIME magazine here.
Many of you won't be surprised by the fact that Andrew chose the X-Pro2 to document life & war in Afghanistan. As these Poll results clearly show, the majority of X-shooters believe that the Fujifilm X-Pro2 fits really well with certain styles like Street, Reportage, Documentary photography.
But what is it that makes the Fujifilm X-Pro2 so popular for these Photography Genres?
Maybe it's the sleek and simple rangefinder style. Maybe it's the corner placement of the viewfinder, which allows you to have the left eye free to see the whole scene. Or maybe it's the OVF, which has the huge advantage to actually show you what's happening outside your frame (and to save battery life). And maybe (just maybe) it could be, for some, even the lack of a tilt screen: one less thing to worry that could eventually break, especially when shooting in flustered and chaotic situations like conflict zones.
Maybe all these little things (and more) together make the X-Pro2 the ideal tool for the street and reportage.
Whatever it is… at the end of the story we have an X-shooter out there, who gets his hard job done with the X-Pro2… a work that is worth to be checked out at the TIME here.
If you ever read this Andrew Quilty, keep it up! And FujiRumors will always be happy to eventually share, if you want, your experience with the X-Pro2 in Afghanistan.
And thanks a lot to the FR-reader for the link. :)
Fujifilm X-Pro2: USA: BHphoto / AmazonUS / FocusCamera / Adorama / Pictureline / BestBuy CANADA: AmazonCA / EUROPE: AmazonDE / AmazonUK / WexUK / PCHstore / AmazonITA / AmazonFR / AmazonESP /   AUSTRALIA: CameraPro
Fuji X Forum, Facebook, RSS-feed and Twitter