Act Fast: the elusive X-T1 with 18-55 in stock at Adorama and ebayUS!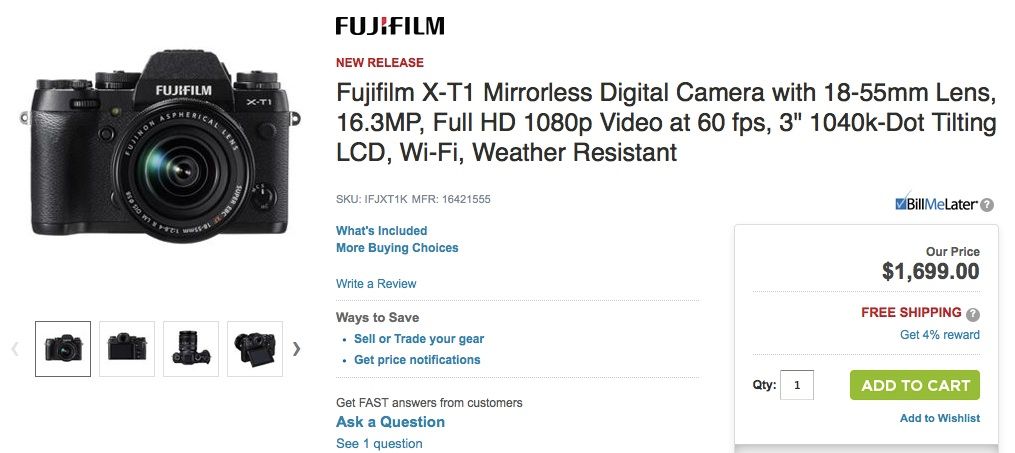 For those patiently waiting for the X-T1 with kit lens: You can grab it now here: Adorama (+4% reward)/ [shoplink 24209 ebay]eBay 1 – last one[/shoplink] / [shoplink 24210 ebay]eBay 2[/shoplink]
The next X-deals should start tomorrow, but in the meantime Fuji is still busy to try to deliver the lenses which were included in the last deals, that ended on April 5th. Some of them are expected to be available in mid-May.
USA – the IN and the OUT
X-T1 body: OUT OF STOCK
X-T1 kit: Adorama / [shoplink 24209 ebay]eBay 1 – last one[/shoplink] / [shoplink 24210 ebay]eBay 2[/shoplink] /
XF56mm: OUT OF STOCK
XF23mm: OUT OF STOCK
XF55-200: AmazonUS / Adorama / Pictureline /
XF27mm (black): OUT OF STOCK
XF27mm (silver): AmazonUS /
XF 35mm: OUT OF STOCK
X-T1 body and kit also in stock in Australia at camerapro