7Artisans 7.5mm f/2.8 Fisheye MK II Released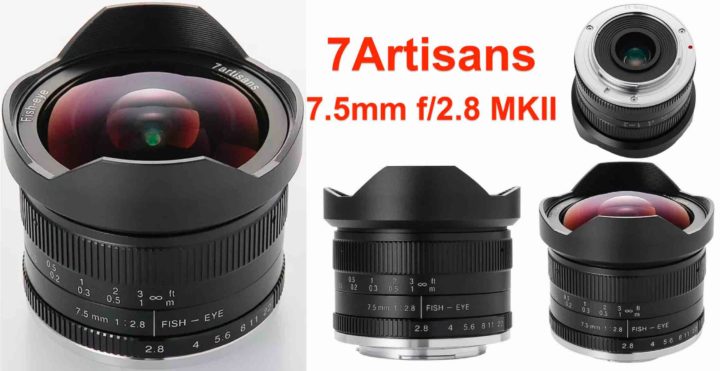 7Artisans 7.5mm f/2.8 Fisheye MK II
Shichiku Shoko just launched the second verision of the original 7Artisans 7.5mm f/2.8, the 7Artisans 7.5mmF2.8 MK II. The lens will soon be available at AmazonUS here, BHphoto here and Adorama here.
Also, check out the dedicated 7Artisans storefornt at AmazonUS.
A new type of fisheye lens from Shichiku Shoko, "7 Artisans 7.5mm F2.8 Fish-eye II". Specially designed for APS-C size mirrorless cameras. With a minimum shooting distance of 12 cm and a 180-degree perspective, you can enjoy the extraordinary world of distortion with the wide spread of the fisheye that can only be created by the angle of the subject. The high-quality appearance using aluminum alloy and the squeeze ring are stepless without click feeling and you can also enjoy movie shooting.

Easy to use. Improve the appearance design

The symptoms of vignetting due to the conventional lens hood are improved by integrating the hood and the lens barrel. The lens mount parts are made of durable aluminum alloy, which is the material of aircraft, and can be mounted with high accuracy. In addition, the new metal lens cap has been improved to a covered type, making it easy to remove and install.
via stkb
Specs & Samples