2016 will be THE Fuji Year :: Big Rumor Overview and Rumor Check :: 84% correct rumors…. but actually it's more ;)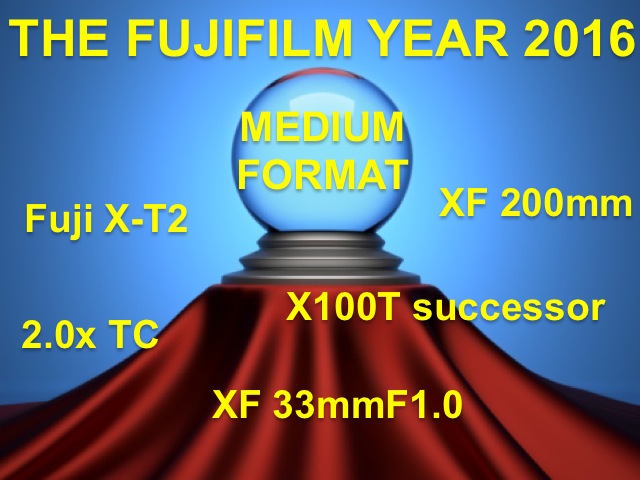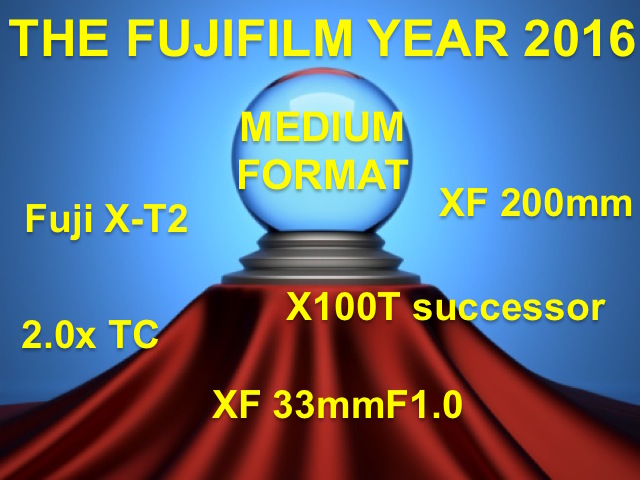 [wysija_form id="1″]
_ _ _
I'm aware of one thing: I will never ever be able to give you a 100% rumor accuracy.
Sure, I sometimes just post a wrong rumor, but often those "wrong" rumors were actually correct at the time of sharing… it's just the products did not materialize (did you notice the X-Pro1s amongst the X-Pro1 successor prototypes showed by Fujfilm ;) ?)
But luckily Our Sources Rock, and often they can keep us updated with the latest changes at Fuji's house. They are my guide through the tons of fakes I get from people who apparently don't like FujiRumors. And that's why at the end, in the last 12 months, Fujirumors has the following (in my opinion amazing) numbers:
140 rumors shared
117 of these 140 rumors could be verified
98 of those 117 rumors were correct
19 were wrong (or right at the time of sharing, but Fuji changed plans)
23 rumors still have to be checked
84% correct rumors
So, my fellow X-Shooters, I will continue to keep you up to date with Fuji's plans, even if this means taking risks that Fuji changes plans, and I'll expose myself to shitstorms. But my job here is to keep you informed, so that you can make better buying decisions and also send your Feedback directly to Fujifilm (who reads this blog), while they are still discussing possible products.
So here you have the complete Rumor Overview of what has been shared in 2015 and 2016 (and still has to be verfied) + the huge Rumor by Rumor check.
stay tuned,

Fuji X Forum, Facebook, RSS-feed and Twitter
HIGH RATING*
* 75% to 99% correct

SHARED IN 2016
– Fujifilm Will Launch a Medium Format Camera (shared January 25)
– Fujifilm X-Pro2 Shipping Embargo is February 4 [Note: Initially the BHphoto website showed February 4th as shipping date. It has been changed to February 25 later on. I will wait for the shipping to move it in the right or wrong section]

SHARED IN 2015
Fujifilm decided to go ahead and produce the XF33mmF1.0
MEDIUM HIGH RATING*
*50% to 74% correct

SHARED IN 2016
– Fujifilm X-Pro2 to ship pretty quickly after its announcement (maybe already within January, or at latest first half of February)
– Fujifilm X-T2 will be announced in June
– Fujifilm will launch a 2.0 Teleconverter this year, too (shared January 26, 2016)
SHARED IN 2015
– X100T successor with Newly Developed Lens!
– Fujifilm is forging a MEDIUM FORMAT CAMERA
– Fuji plans a Super Fast XF 33mmF1.0, but final decision is not yet made if to produce it or not
– Fujifilm plans a Super Fast F/1.0 lens!
– No further delay on the XF100-400 (roadmap says available within March 2016)
– Fujifilm X-T2 will be announced in June (NeS + SRP)
MEDIUM LOW RATING*
*25% to 49% correct
SHARED IN 2016
– New Source says it will be presented Photokina! (shared January 25)
– RUMOR :: Super-Fast Fujinon XF 33mmF1.0 to be announced at Photokina
SHARED IN 2015
– X-T2 specs: Available in Summer :: 1080 @ 120fps :: improved continuous autofocus :: 10 FPS continuous
– Tamron has currently No Plans for Fuji X mount lenses… but they may produce some in future!
– Internal Fuji roadmap shows 200mm, 8mm and 33mm. But 33mmF1.0 still not sure if Fuji will make it
– No Plans for an Instax Wide Printer at this stage
– Sigma has no Plans to make X-mount lenses. X-Market share too small (shared Oct. 5, 2015)
– Fujifilm considering to make an XF 60mm Mark II, once they completed the roadmap! (shared on Sept.9)
– No Full Frame for Fuji X100T successor? New Source says: "Same sensor of Fuji X-PRO2"
– Fujifilm X-T2 coming pretty soon after the Fujfilm X-PRO2
LOW RATING*
*1% to 24% correct

SHARED IN 2016
///
SHARED IN 2015
– XF120mmF2.8 delayed!
_ _ _
THE 2015 CHECK
CORRECT RUMORS IN 2015
1. XF 16-55mm f/2.8 WR to be announced on January 6th
2. XF 16-55 will cost about £900/1000 (price £949)
3. X-A2 with 180° tilt screen for selfies
4. Fujifilm X-A2 to be announced January 15th
5. Fujifilm XQ2 coming January 15th
6. Lensbaby lenses for X-Mount coming this Spring
7. NEW ROADMAP to be released NEXT WEEK :: will include XF 120mmF2.8 1:1 Macro, 35mmF2, 1.4x teleconverter and 100-400
8. eXtended X-deals :: Save up to $200 on X-cameras and XF-lenses until March 28!
9. SUPER-DEAL on the XF 18-135 starting on April 12 (save $300)
10. XF 16mm to be announced this week: It will weigh 375g, have a filter size of 67mm, a Focus range from 0.15m to ∞ , 13 elements 11 groups, 9 (rounded diaphragm opening) 1/3EV (22 steps).
11. eXtended version: Fuji X-deals will run until May 30… save up to $400
12 New Firmware with Improved AutoFocus for X-T1 coming in May, probably 11th of May (NOTE: rumor shared back in April. Firmware has been announced on the 11th of May)
13 Fuji X-T1 Firmware ver. 4.0 to be announced in May but released in June!
14. A New X-camera will be Announced in May
15.Fujifilm X-T10 to be announced Mid-May
16.Fujifilm X-T10 coming late spring/early summer
17. X-T10 announcement May 18
18. Fujifilm X-T10: Body Price between 700 and 800. Kit with 16-50 or 18-55! No dedicated PASM dial.
19. ** FIRST FUJI X-T10 IMAGE LEAKED ** SEE NOW the Worldwide FIRST IMAGE of the Fujifilm X-T10!
20. X-T10: two small dials under the Drive and Shutter dial: One to enable flash, and one to switch to Full Auto Mode (with scene recognition)
21. Top Trusted Source Says: "Get ready for a NEW LENS on May 18th!!!"
22. XF 90mm: Weight 540g, 13 elements 8 groups with 3 extra low dispersion elements. Minimum focus distance of 0.6m. Size: 75mm x105mm.
23. Fujifilm X-T10 and XF90mm to be announced at 01:00 AM New York Time / 06:00 AM London Time
24. The mysterious new entry-level? A cheaper version of the Fujfilm X-T1 coming this year (NOTE: shared 12 January 2015)
25. Downspec'd Fujifilm X-T1 to be called… Fujifilm X-T10
26. FUJIFILM X-T10 – No weather sealing & smaller EVF
27. Fujifilm X-T10: Some Design Changes over X-T1, SLR shape, Black and Silver version for the same price!
28. Fujifilm X-T10 will have improved AF-performance [NOTE: the improved AF performance should be implemented to the X-T1 via firmware udpate, too] 29. X-T10 no ISO dial, EVF size about the same of X-E2, build in flash, kit lens will be an XC lens
30. Fujifilm X-T10 will feature a Function Dial (CH, CL, BKT…) instead of ISO-Dial
31. XF 90mm will come in July
32. Fujifilm X-T1 Better AutoFocus coming in May with Firmware Ver. 4.0
33. X-T10 kit will cost CHF 849. Other EU-countries (not all) will sell body for €699 and kit for €799. [Note: The day before I said the Fuji X-T10 kit will cost €849, but it was an error of mine, because it said CHF and not €. So I corrected it the day after] 34. Uk X-T10 & 90mm price: X-T10 body £499 / 16-50 kit £599 / 18-55 kit £799 / 90mm £699
36. Fuji X Flash delayed because of Metz insolvency (NOTE: confirmed by insiders here)
37. The X-T1 Firmware 4.0 coming on June 25 (NOTE: read the comments here and you will have it confirmed. The firmware has been delayed later on)
38. X-T1 Firmware 4.0 delayed from June 25 to June 29 [Fujifilm confirmed here release for June 29] 39. New X-deals Coming May 24: $150 price drop on X-T1 and 35mmF1.4 and more.
40. Fujifilm X-E2 Firmware Update coming in about 6 months –NOTE: Rumor confirmed on the 24 of July by Fujifilm itself here. Last second delays due to unexpected bugs can always happen.
41. XF35mmF2 WR and 1.4x TC announcement at 01:00 AM NY-Time of Oct. 21
42. XF35mmF2 WR & 1.4 TC available in mid-November (probably 14th) – [NOTE: Adorama & Co expect it to be available on Nov.14] 43. XF 35mmF2 WR will cost less than the current XF35mmF1.4
44. XF35mmF2 will cost €399
45. Teleconverter 1.4x will cost €449
46. 1.4x Teleconverter to be announced along with the 35mmF2 on Ocotber 21 – both will hit the market mid-November!
47. XF35mmF2 to be announced on October 21
48. XF35mmF2 WR and 1.4x Tele-Converter to be announced late October
49. Coming Soon: Fuji X-series compatible version of its Metz 44 AF-1 Flash with on camera TTL capability
50. Fuji X-T1 will get another Firmware update this year! (rumor shared on August 3 2015 – Firmware came on December 17)
51. Bug fixed: Fuji X-T1 FW 4.20 will come on December 17
52. Big Fuji X-deals will start on Sunday, November 15!
53. US-X-Deals coming next week: Fuji X-T1 $300 off!
54. X-Pro2 for € 1,799
55. EF-X500 Flash to be announced on January 15 :: HSS 1/8000 :: GN 50 :: Available in Spring
56. X-Pro2: EVF with amazing 85 fps refresh rate + 3 Power Managment modes!
57. X-E2 Firmware 4.00 confirmed for January 15 [Note: The source contacted me later on, asking me to clarify that the announcement is confirmed for the 15th, while the FW will be ready for download a bit later] 58. X70: min. Focus distance 10cm :: size 112.5 x 64.4 x 44.4 mm :: Fujfiilm NP-95 battery
59. Fuji X-Pro2 size: 140.5 (W) x 82.8 (H) x 45.9 (D) mm
60. First Image of the XP90
61. Fujifilm X-Pro2 :: Slightly bigger & heavier than X-Pro1 :: AE bracketing up to ±2EV
62. First images of the X-Pro2 Menu
63. X-Pro2 price: Europe: between €1,699-1,799.
64. Fujifilm X70: coming January 15 with external viewfinder option and 18.5mm F2.8 lens (28mm equiv.)
65. lossless RAW compression, 273 Focus Points, Improved Noise Reduction, Pixel Mapping, Grain Effect, New Menu Interface, NP-W126 batteries, EXR III processor will get the much cooler name "X-processor".
66. LEAKED: First Official Images of the Fujifilm X-E2s :: Specs? It's all about the Firmware!
67. First images of the XF100-400. Specs: minumum focus distance from 1.75 m / Zoomed out, it will be 270mm long, while on the wide end it will be about 6cm shorter. / Filter size 77 / weight 1375g and have 21 elements 14 groups /
68. Fujifilm X-E2s: 16MP X-TransII sensor :: most relevant improvements Firmware based :: Coming January 15!
69. LEAKED: First Official Images of the Fujifilm X-Pro2 :: See it with XF35mmF2 attached
70. First REAL LIFE image of the FUJIFILM X-Pro2
71. Fujifilm X70 will have a Touch & Flip Screen!
72. Sketches from the real X-Pro2
73. And after the X-E2 comes the… X-E2s
74. X-Pro2: No IBIS
75. Fujifilm X70: Coming with 16MP X-TransII sensor for less than $1000 and with a New Lens (28mm equiv.)
76. There will be an X-E2 successor, called X-E2s or X-E3!
77. On Jan 15. Fuji will launch the X-Pro2… without 4K video
78. Fujifilm X-Pro2: Joystick + Exposure Compensation Dial with "C" function (for range from +5/-5)
79. X-Pro2 will NOT show up at CES 2016 but later!
80. X-PRo2 announcement Janaury 15, 2016 (shared in October 2015)
81. Fuji X-PRO2 will be 4K capable [NOTE: shared in March 2015… Top Manager Takeshi Ueno confirms it was planed with 4K, but they removed this feature "after garnering feedback from many amateur and professional photographers. More than 80% of [the comments received] didn't request 4K because X-Pro is a special[ist] stills photography camera,'" More here. So you see… it's just my sources are too good ;) ] 82. X-PRO2 will have new processor EXR III [Rumor shared in March 2015 – The New Processor came, but Fuji renamed it X-Processor Pro] 83. Fujifilm X-PRO2 will have 1/8000 mechanical shutter speed
84. The Fuji X-PRO2 will be weather sealed
85. Fujifilm will launch the X70, little sister of the X100 series… with a NEW LENS!
86. Fuji X-PRO2 available early 2016
87. The rumored X-E2 firmware will bring a new AF-system to X-E2 cameras
88. Fuji X-Pro2 will NOT have a tilt screen
89. New "ACROS" Film Simulation for Fujifilm X-Pro2
90. X-PRo2: Combined ISO/Shutter dial, with little window in the shutter dial that shows ISO value
91. The Fujifilm X-PRO2 will come in January 2016
92. X-PRO2 Sync Speed faster than 1/180th
93. Fuji Flash delayed to first half of 2016 [NOTE: As confirmed here, Fuji really planed to release it in 2015. However, the Metz insolvency changed everything. I still don't know if this will lead also to changes in the specs] 94. 24MP, dual SD, more than 200 AF points (2/3 are PDAF), Hybrid Viewfinder as X100T, 1/8000 shutter speed, 1/250 flash sync speed, no tilt LCD, ISO200-12800
95. Fuji X70 already in the hands of selected photographers for testing (shared November 16, 2015)
96. Fuji X-PRO2 will have "about the same size" of the current Fujifilm X-PRO1
97. The Fujifilm X-E2 will get the NEW AF-SYSTEM by the end of this year [NOTE: shared in July 2015 – This rumor has been confirmed by Fujifilm itself here. Evidently there was a delay of at least 15 days)
98. Fujifilm Flash will come in spring 2015, guide no. 50 and wireless control [NOTE: As confirmed here, Fuji really planed to release it in 2015. However, the Metz insolvency changed everything. I still don't know if this will lead also to changes in the specs].
WRONG RUMORS IN 2015
NOTE: Wrong rumors can be actually right rumors, but Fujifilm changed plans on it later on. This happens especially with Firmware updates, shipping dates and price, because it's very easy for Fujifilm to change them in any moment. But it can happen also with wrong rumors. 3 examples
1) FW 4.00 for X-T1 has been delayed for a few days (confirmed here)
2) Shipping Embargo on X-Pro2 changed from early Feb. to late Feb (read Fuji statement here)
3) X70 price changed even 3 days after the offical launch from $799 to $699 (more here)
4) Fuji plans X-Pro1s (confirmed, see Prototype here)
1. Fujifilm should present a flash system for X series at the CES
2. Lightroom with X-T1 tethered support coming in February (shared 8 January 2014) – NOTE: a plug-in for Adobe tethered shooting was announced in February, but since I said a dedicated Adobe solution will be "released" in February, I consider this a wrong rumor.
3. Next Version of Lightroom will support X-T1 tethered shooting (shared 7 January 2014) – NOTE: a plug-in of Fujifilm was offcially announced on February 26th.
4. X-T1 Firmware 4.0 postponed form June 18 to June 22 (shared June 3) – [NOTE: this rumor has been confirmed on June 7th by a Fujifilm Manager here. But, at the end, what the Manager confirmed is also wrong, since the a trusted sources corrected the manager and said the date is the 25, then 29]
5. Fuji X-T1 Super-Firmware Ver. 4.0 to download on June 18th [NOTE: Postponed, came a few days later]
6. Lightroom Plug-in for Mac tethered shooting available in August [NOTE: sorry guys, it came on July 29… 3 days too early ;) )
7. X-T1 Firmware update will make Video Button an FN-button [NOTE: When FW 4.10 was announced, it just added 35mmF2 support. I said on that day, that probably the source was talking of the long rumored bigger X-T1 FW update… and indeed it happened FW4.20 on Dec.17. But the devil is in the details… so I'll keep it in the wrong rumor ] 8. Fujifilm will launch the first X series camera with 1" sensor in about 3 months. Fixed lens super-zoom with range similar to X-S1
9. No new X-T1 FW 4.20 on December 17, although Fujifilm USA said it will come [NOTE: This rumor was actually correct, but after the Fuji USA leak and the post on Fujirumros, Fujifilm was under pressure and worked to release the Firmware for December 17. But since there is no official statement about this (and I'm not willing to disclose anything more in order to protect my sources 110%) I'll put this rumor in the "wrong" section] 10. X-Pro2 for $ 1,799 [final price $1699] 11. X-E2s will be more expensive than X-E2
12. X-Pro2 price: USA: It should cost between $1,799-1,899
13. XF100-400 to be announced on January 15 for about $/€1,800 [in USA it's $1,899] 14. X-PRO2 with tilt screen [NOTE: this is a very early rumor of July 2015. I don't know if at that stage it was planed with tilt screen] 15. XF100-400 delayed!
16. X-PRO2 with bigger sensor ( ≈ 1.3x crop), compatible with existing lenses
17. Fuji working on bigger sensor camera. Some XF lenses already able to cover bigger sensor!
18. Next generation of X-Trans sensor will be made by Toshiba [NOTE: I never believed it, and never planed to publish it, but I since the famous joofei shared it here, I decided to share it. We now know that everything joofei shared so far is wrong.] 19. Fujifilm X-PRO2 coming "late 2015" [NOTE: This "early" rumor was probably correct at the time of sharing, but will turn out to be wrong due changed plans at Fuji. Unless I find an official statment from Fujifilm about the delay, I'll consider it a wrong rumor anyway.]