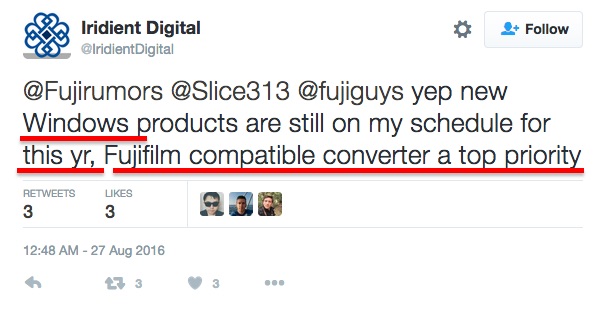 Back in February 2016, Brian from Iridient said here, that he's working on a Windows version of his software. The expected release date was March/April. But since then, we haven't heard and seen anything anymore.
Some Windows users were worried, that Brian dropped the project. But I'm glad to report that this is not the case.
Brian just confirmed via Twitter here: "Windows products are still on my schedule for this yr, Fujifilm compatible converter a top priority".
Iridient Developer is considered by many X-shooters the best RAW converter for X-Trans files. Brian has a page on his website here, where he lists many reviews and articles about Iridient.
NOTE: I'm not affiliated with Iridient. I never got money or a free license or anything else like that from Brian. My only goal is to report as objectively as I can about this software, and I consider it definitely something every X-shooters should try out one day. Free Trial is available (for MAC only until now).