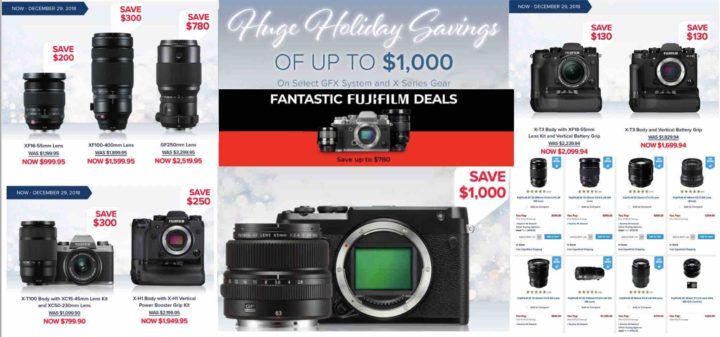 Fujinon X and GFX Sales
We told you already a few days ago here, that, in Europe, Fujifilm is going to top some of their current deals. I don't know in which country and for which products, but the cashback on some products should be doubled.
Let's see what happens in other parts of the world. But for now, you can already check out the early black Friday deal pages at at AmazonUS, AmazonCA, AmazonDE, AmazonUK, AmazonIT, AmazonFR.
Down below you can find the list of early deal pages at the various retailers, as well as the full list of current Fujifilm deals.





Fujifilm X and GFX deals
Fujifilm GFX 50R / 50S
GFX 50R + GF63mm (save $1,000): BHphoto, Adorama, AmazonUS, FocusCamera
GFX 50R + GF45mm (save $1,000): BHphoto, Adorama, AmazonUS, FocusCamera
GFX 50R + GF32-64mm (save $800): BHphoto, Adorama, AmazonUS, FocusCamera
GFX 50S (save $1,000): BHphoto, Adorama, AmazonUS
Fujinon GF Lenses
GF 23mm (save $620): BHphoto, AmazonUS, Adorama, Focuscamera
GF 45mm (save $300): BHphoto, Adorama, AmazonUS, Focuscamera
GF 63mm (save $350): BHphoto, Adorama, AmazonUS, Focuscamera
GF 110mm (save $660): BHphoto, AmazonUS, Adorama, Focuscamera
GF 120mm (save $640): BHphoto, Adorama, AmazonUS, Focuscamera
GF 250mm (save 780): BHphoto, Adorama, AmazonUS
GF 32-64mm (save $550): BHphoto, Adorama, AmazonUS, Focuscamera
Fujifilm X Cameras
X-T3 + v. grip (save $130): BHphoto, AmazonUS, Adorama, Focuscamera
X-T3 + 18-55 + v. grip (save $130): BHphoto, AmazonUS, Adorama, Focuscamera
X-H1 (save $250): BHphoto, AmazonUS, Adorama, Focuscamera
X-H1 + v. grip (save $250): BHphoto, AmazonUS, Adorama, Focuscamera
X-T2 (save $500): BHphoto, AmazonUS, Adorama, Focuscamera
X-T2 + 18-55 (save $400): BHphoto, AmazonUS, Adorama, Focuscamera
X-E3 (save $100): BHphoto, AmazonUS, Adorama, Focuscamera
X-E3 + XF23mmF2 (save $100): BHphoto, AmazonUS, Adorama, Focuscamera
X-E3 + XF18-55 (save $200): BHphoto, AmazonUS, Adorama, Focuscamera
X-T100 (save $100): BHphoto, AmazonUS, Adorama, Focuscamera
X-T100 + XC15-45 (save $100): BHphoto, AmazonUS, Adorama, Focuscamera
X-T100 + XC50-230 (save $100): BHphoto, AmazonUS, Adorama, Focuscamera
X-T20 (save $200): BHphoto, Adorama, AmazonUS, FocusCamera
X-T20 + 18-55 (save $200): BHphoto, Adorama, AmazonUS, FocusCamera
X-T20 + 16-50 (save $200): BHphoto, Adorama, AmazonUS, FocusCamera
X-T20 + 15-45 (save $200): BHphoto, Adorama, AmazonUS, FocusCamera
X-Pro2 black body (save $200): BHphoto, AmazonUS, Adorama, FocusCamera
X-Pro2 + XF23/2 (save $250): BHphoto, AmazonUS, Adorama, FocusCamera
X-Pro2 + XF35/2 (save $250): BHphoto, AmazonUS, Adorama, FocusCamera
X-Pro2 + XF50/2 (save $250): BHphoto, AmazonUS, Adorama, FocusCamera
X-Pro2 graphite + 23/2 or 35/2 or 50/2 (save $200): BHphoto, AmazonUS, Adorama , FocusCamera
X-A3 + 15-45 (save $50): BHphoto, Adorama, AmazonUS, Focuscamera
X100F silver/black (save $100): BHphoto, Adorama, AmazonUS, Focuscamera
X100F brown (save $100): BHphoto, Adorama, AmazonUS, Focuscamera
Fujinon Prime Lenses
XF 14mmF2.8 (save $150): BHphoto, AmazonUS, Adorama, FocusCamera
XF 16mmF1.4 WR (save $150): BHphoto, AmazonUS, Adorama
XF 18mmF2 (save $50): BHphoto, AmazonUS, Adorama, FocusCamera
XF 23mmF1.4 (save $100): BHphoto, AmazonUS, Adorama, FocusCamera
XF 23mmF2 WR (save $50): BHphoto, Adorama, AmazonUS
XF 27mmF2.8 (save $50): BHphoto, AmazonUS, Adorama, FocusCamera
XF 35mmF1.4 (save $50): BHphoto, AmazonUS, Adorama, FocusCamera
XF 35mmF2 WR (save $50): BHphoto, AmazonUS, Adorama, FocusCamera
XF 50mmF2 WR (save $50): BHphoto, Adorama, AmazonUS
XF 56mmF1.2 APD (save $150): BHphoto, AmazonUS, Adorama, FocusCamera
XF 56mmF1.2 (save $100): BHphoto, AmazonUS, Adorama, FocusCamera
XF 60mmF2.4 (save $50): BHphoto, AmazonUS, Adorama, FocusCamera
XF 80mmF2.8 OIS WR (save $150): BHphoto, AmazonUS, Adorama, FocusCamera
XF 90mmF2 WR (save $150): BHphoto, AmazonUS, Adorama, FocusCamera
Fujinon Zoom Lenses
XF 10-24mmF4 OIS (save $150): BHphoto, AmazonUS, Adorama, FocusCamera
XF 16-55mmF2.8 WR (save $200): BHphoto, AmazonUS, Adorama, FocusCamera
XF 18-55mmF2.8-4 OIS (save $100): BHphoto, AmazonUS, Adorama, FocusCamera
XF 18-135mmF3.5-5.6 OIS WR (save $100): BHphoto, AmazonUS, Adorama, FocusCamera
XF 50-140mmF2.8 OIS WR with Teleconverters option (save $200): BHphoto, AmazonUS, Adorama, FocusCamera
XF 55-200mmF3.5-4.8 OIS (save $100): BHphoto, AmazonUS, Adorama, FocusCamera
XF 100-400mmF4.5-5.6 OIS WR with Teleconverters option (save $300): BHphoto, AmazonUS, Adorama
Official Fujifilm Recommended Battery Chargers