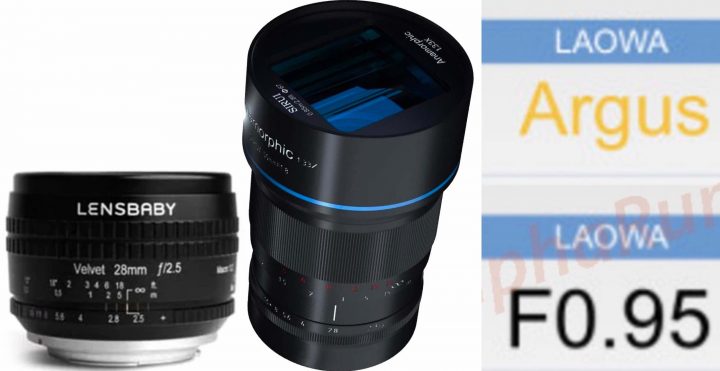 Here is a quick 3-news lens roundup.
Venus Optics Laowa Argus f/0.95
According to rumors shared at SonyAlphaRumors, the launch of the Venus Optics Laowa Argus f/0.95, which FujiRumors reported about it here, has been postponed to 2021.
As FujiRumors exclusively told you, the Argus line will include the widest f/0.95 X mount lens on the market.
Lensbaby Velvet 28mm f/2.8
Nokishita spotted the Lensbaby Velvet 28mm f/2.8 at kellards. The lens will be available also for Fujifilm X Mount. You can see an image above.
Here is the press release via 43rumors.
Lensbaby Velvet 28 is a 28mm, f/2.5 all-metal, hand-crafted art lens that captures tack-sharp detail beneath a layer of radiant glow. Velvet 28 also features exceptional 1:2 macro capabilities with a close focus distance of 2" from the front of the lens. Built with landscape, adventure, travel, and street photographers & videographers in mind, the Velvet 28 offers Lensbaby's popular variable glow effects at a wide 28mm focal length. Lensbaby's Velvet effect lenses add an ethereal mood to scenes. This unique, in-camera creative effect elevates imagery with depth, dimension and soulful expression. The Velvet 28's close-focus capabilities, combined with effects varying from impressionistic at bright apertures to just a touch of velvety smoothness at darker apertures, provides a set of visual tools that will help creative shooters expand their vision of the world. One of Velvet 28's key features is its 1:2 macro capability. It is an ideal in-camera effects lens for photographers & videographers who like to shoot wide, while also offering the versatility to capture closer details. The lens allows image makers to move seamlessly from shooting street scenes or capturing landscape, adventure & travel images to capturing details such as a subject's clothing or wildflower blooms and butterflies in an alpine meadow.
Features
28mm Focal Length
1:2 Macro Magnification Ratio
Aperture Range: f/25 – f/22
67mm Filter Threads
Manual Focus
Sirui 50mm X-Mount F1.8 Anamorphic 1.33X
Cinema5D shared a sample video shot the Sirui 50mm X-Mount F1.8 Anamorphic 1.33X mounted on a Fujifilm X-T4. You can see the video below.
Now the lens is listed at Adorama here.
You can also find a blog post about it on Cinema5D here, where they say:
It's a remarkable achievement not only for the price. The lens is very sharp, even when shooting wide open at f/1.8, which was totally unexpected for me. It's well built from metal, and I can see this show up on a lot of low-budget anamorphic productions everywhere. Right now it's a shame that there isn't another focal length available, I would love to see a full set of these out now, but we are hoping that they will come.
Follow FujiRumors: Patreon, Facebook, Instagram, RSS-feed, Youtube, Flipboard and Twitter