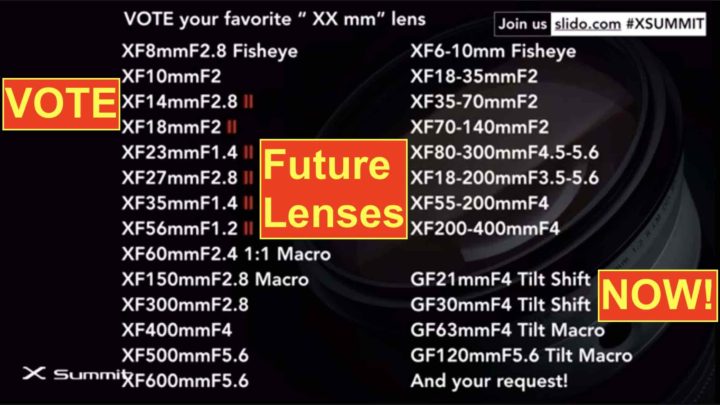 Fujifilm Lens and Firmware Future
I understand, that the big Fujifilm X Summit coverage happened right at the start of the weekend and fewer people read FujiRumors.
But for the first time ever, Fujifilm publicly asked us for help in deciding which lenses they should make next, and we have to answer in the best way possible.
Now let's show to Fujifilm the unique power of FujiRumors and vote massively the polls down below.
Fujifilm top manager Toshi Ilda said during the Fujifilm X Summit "after seeing the results, maybe next week, you will see a new lens roadmap", and we don't want to miss our opportunity to impress Fujifilm with our feedback. ;)
Make me fly, guys, and vote, vote and vote!

Loading ...

Loading ...

Loading ...
Fujifilm USA Deals
Special BH Deals
Prime Lenses
Zoom Lenses
Camera Deals
Fujifilm Camera Deals
Fujinon Lens Deals
Third Party Lens Deals for Fuji X
Used Fujifilm Gear
SD-Cards
Power Banks
Accessories and Apple Deals
EU DEALS

These are cashback deals, meaning you pay regular retail price, then head over to fujifilm-connect, select your country and claim back your money.
*Only purchases directly from Amazon (with an Amazon invoice) are eligible for this promotion. Purchases from Amazon Marketplace are not eligible and will be rejected, unless the Marketplace Seller is also a Fujifilm Qualifying (Authorised) Retailer.