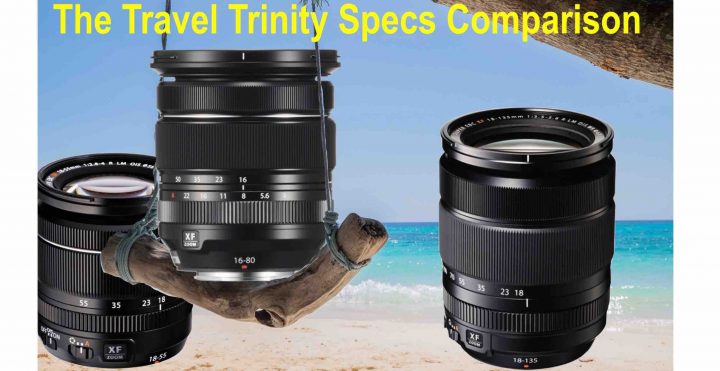 The Travel Trinity
Two of the most popular and loved travel lens options for Fujifilm X shooters are the Fujinon XF18-55mm f/2.8-4 and XF 18-135mm f/3.5-5.6.
But there is one lens, that might rule them all: the just announced Fujinon XF 16-80mm f/4.
The XF16-80 sits nicely between the XF18-55 and XF18-135 in terms of size and price, but it stands out from the rest by offering 6 stops of OIS and a new feature, where the lens automatically detects if you are shooting on a tripod, and automatically adjust OIS accordingly.
Optically it's all still to evaluate. But initial impressions as well as full size samples can be found in our live blogging.
In this post, we are going to just compare the mere specs of the travel trinity. So, if you want to compare filter size, weight, size, minimum focus distance and more, access this dedicated BHphoto specs comparison page.
Personally I am very happy with my XF18-135mm, which snapped my favorite image of 2018 and makes it hard for me to replace it with anything, unless the XF16-80 has some significant image quality advantage.
Time will tell how the XF16-80 stands up against the other zooms, and of course you'll be the first to know, if you follow FujiRumors on Facebook, Instagram, RSS-feed, Youtube, Flipboard and Twitter.
Rumors and Discussions

Stay in the Loop