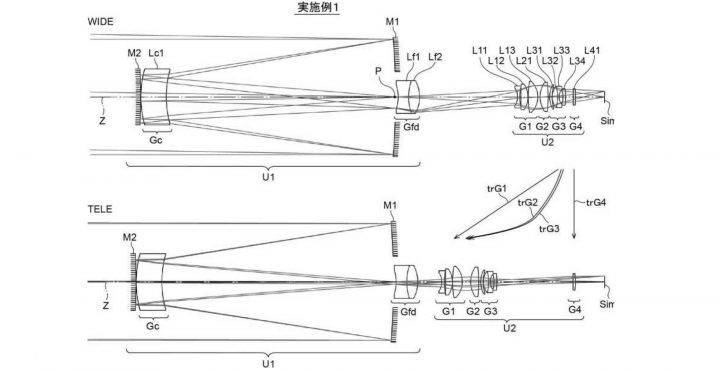 My buddy at CanonWatch told me that FUJIFILM filed a patent for a 500-2500mm zoom lens for a 1.0-type sensor camera. These lenses are for a security use.
"In recent years, the demand for surveillance cameras used for remote monitoring in harbors and / or airports has increased. Accordingly, the demand for telephoto and super telephoto variable magnification optical systems is increasing. In this type of variable magnification optical system, the optical element disposed closer to the object side tends to have a large diameter and the weight balance tends to deteriorate, and therefore there is a demand for a reduction in the load on the object side portion. There is also a demand for an inexpensive configuration, a high zoom ratio, and high performance.
 However, the variable power optical system described in Patent Document 1 requires a large-diameter aspherical optical element and is expensive.
In order to solve the above problems, the variable magnification optical system of the present invention includes two reflecting mirrors each having a reflecting surface facing each other in order from the object side. "
Lens Specification:
Zoom ratio: 5.0
Focal length: 500.007 2501.077 mm
F number: 3.125 15.632
ω: 0.917 0.183
Image height: 8.0 8.0 mm
Follow FujiRumors on Facebook, Instagram, RSS-feed, Youtube, Flipboard and Twitter.
You can find the full patent here – via hi-lows-note