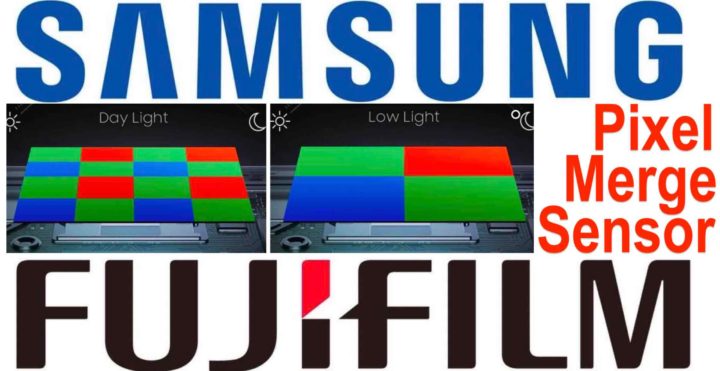 Fujifilm & Samsung
Back in 2018 Samsung and Fujifilm officially announced the development of a new CMOS image sensor technology for enhanced light sensitivity and color fidelity, called ISOCELL+ sensor (full report here).
This sensor structure also allows for the revolutionary "pixel merge technology", already used in the Samsung Galaxy A7
This is how it works on the Samsung Galaxy A7: the 24 megapixel sensor can, for better low light image quality, combine 4 pixels into 1 pixel and end up with 6 MP files (via samsung.com).
The hot rumor today is:
Samsung will provide Fujifilm with APS-C and Medium Format pixel merge technology sensors.
The rumor is of a 36 megapixel APS-C sensor, that could be switched to 9, 18 or 27 megapixel according to your needs. You will also be able to switch between Bayer and X-Trans layout. Last but not least, the pixels will also be able to flip by 180° into black & white mode.
The source told me, this technology will be ready for the Fujifilm X-H2, Fujifilm X-T4 and Fujifilm X-Pro3, followed by a 150 megapixel medium format Fujfilm GFX 150.
This "universal all-in-one" sensor is Fujifilm's answer to customers' often impossible desires: one sensor, to satisfy them all!
But Fujifilm's mission to deliver what we really desire and need does not stop here!
According to our source, the next step is the use of Vibranium from Wakanda for lens development, which should allow for a fully optically corrected XF 8-600mm f/0.85 pancake lens for less than $500.
It looks like our constant complaints finally pushed Fujifilm to re-invent the laws of physics.
This digital photography revolution starts today, with this rumor, on this special, very special day, that I will mark in my calendar… and you should do the same :).
stay tuned on FujiRuomors… not only April 1 ;)

Follow FujiRumors on Facebook, Instagram, RSS-feed and Twitter
Our Owners Groups
Our Facebook Pages