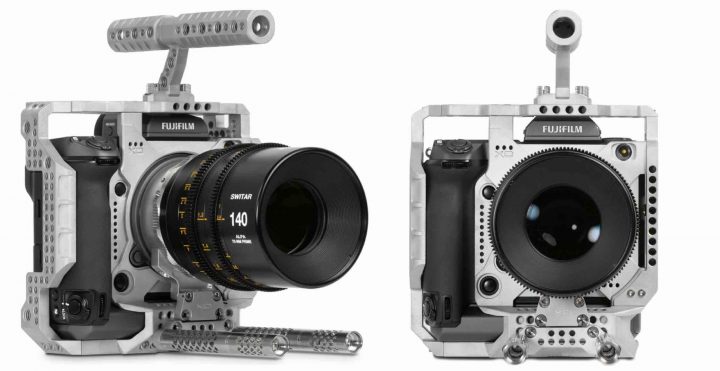 ALPA just announced the ALPA XO Exoskeleton for Fujifilm GFX100:
ALPA XO, the high-end exoskeleton for the brand new Fujifilm GFX 100 camera. ALPA introduces the extraordinary ALPA XO line, which supports the new generation of medium format cameras for still and moving images. The first series of products will include the ALPA XO exoskeleton, top handle and professional adapter for PL and LPL cine lenses. Of course, everything will be modular and flexible in ALPA style.
Filmmakers use camera cages to add various kinds of accessories to their rig. With ALPA XO, they can attach handles, matte boxes, follow- and remote focus systems, field monitors, recorders and wireless video solutions to match their creative vision. Even without the need for accessories and other lens mounts, the XO-cage will reinforce and protect your camera in every situation.
Just one week after the official launch of the Fujfifilm GFX 100, you can see the prototypes of the ALPA XO Exoskeleton for the Fujifilm GFX 100 at CineGear 2019 in Los Angeles at the booth of Fujifilm and Samy's. On the latter also together with the ALPA Switar Cine Prime Lenses.
via xo.alpa.swiss
Fujifilm GFX 100: B&H Photo, AmazonUS, Adorama, Focuscamera
The GFX Community
Follow FujiRumors: Facebook, Flipboard, Instagram, RSS-feed, Youtube and Twitter
ALPA PRODUCT IMAGES