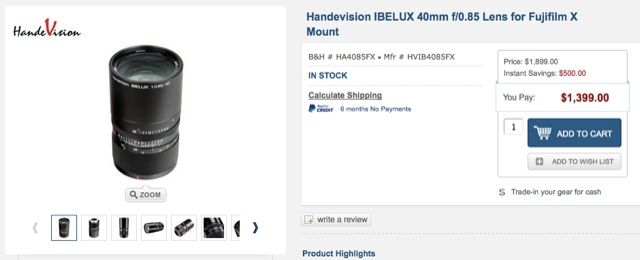 Huge price drop on worlds fastest lens for mirrorless cameras, the IBELUX 40mm f/0.85, You can grab it for $1399 at BHphoto (save $500). The savings are even better at AmazonUS, where you can get it for $1,064. Adorama is still selling it for $2,079.
I remind you that I wrote a humble review about this lens last summer. It includes cat shots, image of bricks in the wall, some pics of my surroundings… and photographs of my beautiful friend Ellie. Check out part 1 here and part 2 here.
Would I buy this lens for $1,000. No… I'd get the 56mm f/1.2 for $850. And there is plenty of Fuji gear in offer to pick up for a good price.
USA DEALS
– X100S (save $450 – black version): BHphoto (free SD card and bag). The silver one comes for $934 at AmazonUS.
– X-E1: It was supposed to expire on DEC 9, but it is still live: BHphoto is offering the X-E1 + 18-55 for just $699.
– X-A1: You can't enter the MILC Fuji X-world cheaper than with this offer: Adorama is selling the blue X-A1 with 16-50 & 50-230 for ridiculous $499!
XF-lenses
(expires DEC 27)

XF 18-135 WR (save $100): BHphoto / AmazonUS / Adorama / Pictureline /
XF 56mm f/1.2 (save $150): BHphoto / AmazonUS / Adorama / Pictureline /
XF 23mm f/1.4 (save $200): BHphoto / AmazonUS / Adorama / Pictureline /
XF 14mm f/2.8 (save $200): BHphoto / AmazonUS / Adorama / Pictureline /
XF 35mm f/1.4 (save $100): BHphoto / AmazonUS / Adorama / Pictureline /
XF 60mm f/2.4 (save $150): BHphoto / AmazonUS / Adorama / Pictureline /
XF 10-24mm (save $200): BHphoto / AmazonUS / Adorama / Pictureline /
XF 55-200mm (save $150): BHphoto / AmazonUS / Adorama / Pictureline /
cameras
(expires DEC 27)

X-T1 body (save $100): BHphoto / AmazonUS / Adorama / Pictureline /
X-T1 + XF18-55 (save $100): BHphoto / AmazonUS / Adorama / Pictureline /
X100S (save $450 – black version): BHphoto (free SD card and bag)
X-PRO1 + 18mm (save $300):  Adorama / AmazonUS
X-E1 + 18mm (save $300): Adorama / AmazonUS
X-M1 + 18mm (save $300): Adorama / AmazonUS
X-E2 + XF18-55: Adorama
IBELUX 40mm  f/0.85 – 1/85 – ISO 200