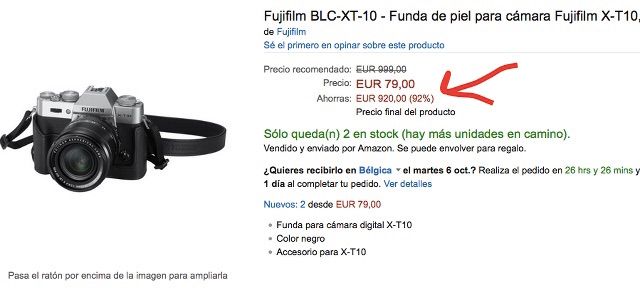 There is no doubt. This deal outshines every Fuji deal that ever existed on this planet: Amazon Spain is offering a 92% price drop on…
… on the Fujfilm X-T10… Half Case!
The case itself costs more than the X-T10. A business model that didn't turn out to be successful for Fujfilm, hence this terrific price drop

.
So AmazonES, the recommended price is €99 and not €999… you better correct it. We are "just" mere X-shooters, no Leica folks ;).
The Real Deals:
USA
$350 price drop on the X-E2 with 27mm (X-E2 black + 27mm here – X-E2 silver + 27mm here) – All Black Combo at kenmorecamera
$100 price drop on the X-T10 body only or combined with the XC 16-50 or XF 18-55 kit lens at AmazonUS / BHphoto / Adorama
UK
X100T for £846 / £840 at AmazonUK
GERMANY
X-T1 + 18-55 & 55-200 for 1899 at AmazonDE
ITALY
AmazonITA is offering the black Fuji X30 for just €382 here
FRANCE
Price drop on plenty of X-gear at AmazonFRA. Lens deals here (including 90mmF2) and X-T1 deals here. Some savings also on X-T10.
SPAIN
Price drop on plenty of X-gear at AmazonESP. Check out the rebate on XF lenses here. For some deals on X-T1 check out here.
BELGIUM
X-T1 + XF18-55 + XF55-200 for €1999 and X-T1 + XF16-55 for €1999 at PCHstore.
AUSTRIA
Double kit deal on the X-T10 with XC 16-50 and XC 50-230 at digitalcameragraz. Save €100.
AUSTRALIA
Cashback deals. Save up to $200 on plenty of X-gear at CameraPro