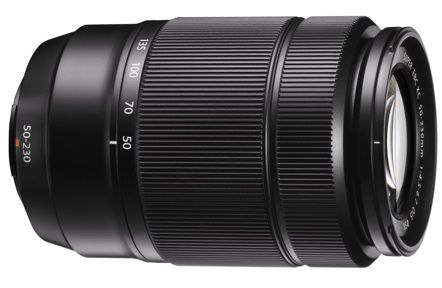 The ebayUS store cameraland sells the "forgotten" Fujinon XC 50-230 here for $300 (instead of $400) – limited quantity.
Why did I call it the "forgotten" one? Acutally the definition "the forgotten one" comes from thepretentiousviewer. Now here is the thing:
About 1 year ago, Fujfilm launched 2 entry level cameras, the X-M1 and the X-A1. There was a lot of talk about "market segmentation" and Fuji's idea was to attack the entry level market with high quality APS-C cameras at affordable prices.
Along with the X-M1 and X-A1, Fuji also launched 2 new Fujinon lenses, the XC 50-230 and the XC 16-50. High built quality (although made out of plastic) and high image quality (although not as fast as the XF 18-55mm and XF 55-200).
The cameras and the lenses were praised in many reviews as the best entry level APS-C system on the market (especially the X-A1), but this was not enough. Fuji's attempt to break into this market segment was not really a success.
But what's a bad news for Fuji, is now a good news for bargain hunters!
In fact, you can now find very good prices on Fuji's entry level gear. The $100 price drop on the XC 50-230 at cameraland is just one of the many deals you can find in stores worldwide.
For example, the X-A1 (APS-C sensor) with kit lens is right now $150 cheaper at BHphoto & CO than the newly announced Fujifilm X30 with 2/3 sensor. There are also some amazing double kit offers, that make the combination X-A1 + XC 16-50 + XC 50-230 cheaper than the Fujifilm X30 (see here at AmazonDE, where X-A1 with the double kit costs €480, while the Fujifilm X30 is sold for  €549 wexDE)
Now, if  you are looking for great IQ at a very low price, or maybe for a backup camera to your high end X-series camera, then look for the entry level deals at:
Fuji X-A1: Amazon, Adorama, DigitalRev, J&R, B&H, eBay
Fuji X-M1: Amazon, Adorama, DigitalRev, J&R, B&H, eBay
Fuji XC 16-50: Amazon, Adorama, DigitalRev, J&R, B&H, eBay
Fuji XC 50-230: Amazon, Adorama, DigitalRev, J&R, B&H, eBay
And since we are talking of deals:
X-E2 shooters can now download the English version of Rico's book "The Fujifilm X-E2, Beyond the Manual" at Rocky Nook here. And for a few days (until the 10th of September) you can grab it with a 40% discount (use Coupon Code "XE240″ – using PayPal).  Also, Rocky Nook offers PDF, ePub and Kindle all together… DRM-FREE!.
Sample Pages (PDF)