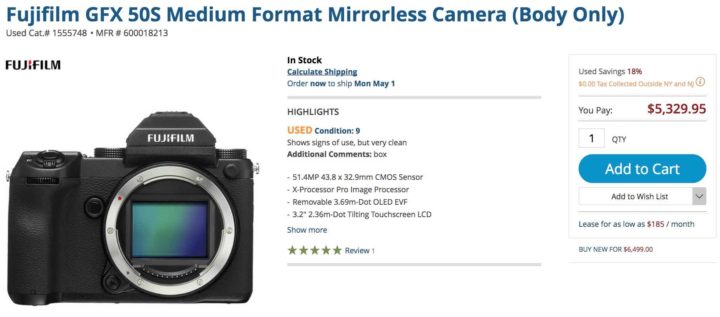 You can now already find the first few used Fujifilm GFX 50s samples at BHphoto here. You can save up to 18%!
Also a few used GF 63mm lenses are now available used at BHphoto here (save up to 17%).
At the time of this post (4:40 pm ET), BHphoto checkout is closed. But it will be available again very soon, at 9:15pm ET tonight. In case you plan to grab it, feel free to support FR and purchase it using this GFX FR-link to BHphoto and this GF63 FR-link to BH. No extra costs for you. Your support helps me to keep the blog open and running the best I can.
The news was spotted by fellow GFX facebook group member Liron and another GFX member, Chris said at the GFX group:
"That's what you get for having a US retail return policy – people will buy the camera, play with it, and return it for a refund – just because they can. Must be a nightmare being a US retailer…"
Feel free to join the 12,000+ strong GFX facebook group, and incredibely helpful community creating infinite GFX content. For fast, reliable, and 100% GFX news and rumors follow the Fujifilm GFX facebook page.
Fujifilm GFX 50s: BHphoto, Adorama, AmazonUS
Fujinon GF 110mm F2: USA: BHphoto, AmazonUS, Adorama Europe: WexUK, PCHstore
Fujinon GF 23mm F4: USA BHphoto, AmazonUS, Adorama Europe: WexUK, PCHstore