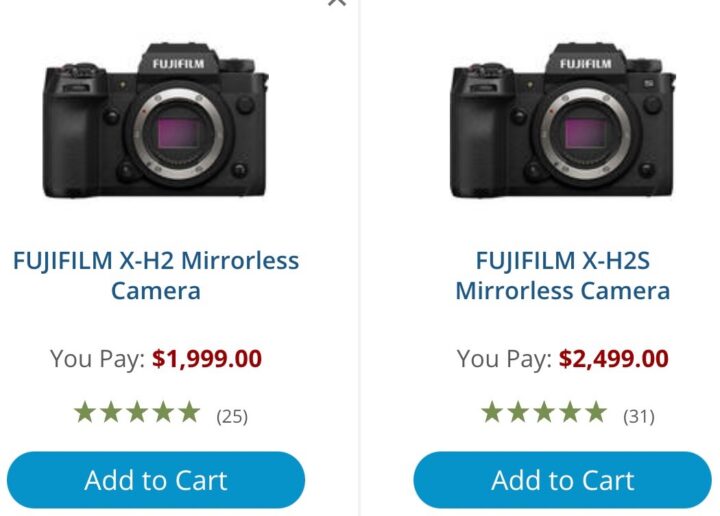 The Fujifilm X-H Line
Trusted Reviews raves about the latest Fujifilm cameras, the Fujifilm X-H2 and the Fujifilm X-H2s.
And while both are excellent, only one of them gets a 5 star rating: the Fujifilm X-H2.
Our one five-star review for this week goes to Fujifilm for its ground-breaking APC-S camera. It's well-constructed, weatherproof and lightweight, with a fantastic articulated screen, and a large and bright OLED viewfinder plus a control layout that few will have problems getting to grips with. This is one of the best cameras around.

Score: 5/5
The Fujifilm X-H2S is a versatile camera with a speedy burst mode, updated subject detection algorithm and support for 6K video. However, it's not as high-resolution as the X-H2 nor as visually appealing as the Fujifilm X-T5, both of which can be found for less money.

Score: 4.5/5
So that's the thing with PSAM dial cameras. They tend to get more attention by huge review sites than more niche retro styled cameras. And good press never hurts.
Also CineD declared the Fujifilm X-H2 the best camera launched in 2022 for video work. As working professional videographers, their opinion matters and debunks the myth that the X-H2s is the video centric cameras and the X-H2 the stills centric one. As we always told you, both are perfect hybrid machines, and the difference is not video vs stills, but speed vs resolution.
And and yet keep in mind that Fujifilm still offers more Retro styled camera lines than PSAM camera lines. So in my humble opinion there is little to complain for retro lovers like me and probably many of you if we look at the 2022 best sellers on FujiRumors, where the X-T5 demolished all sales records.
You can check out the Trusted Reviews article here.
Follow FujiRumors on Facebook, Instagram, RSS-feed, Youtube, Flipboard and Twitter.
100% Fuji Colors Power
Rumors and Discussions