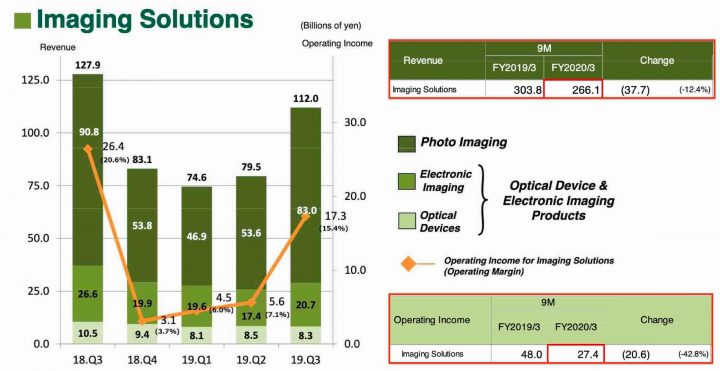 Last week, Fujifilm published their report for the 3rd quarter of the 2020 fiscal year (October to December 2019 – we remind you that the Japanese fiscal year ends on the 31th of March).
This report confirms the trend we saw in the previous report of November 2019: the Instax hype is slowing down, mirrorless is suffering under severe market conditions, and overall revenue and operating incomings decreased.
But Fujifilm is not alone. As we reported here, recently all camera manufacturers reported loss in their imaging division.
The only positive note comes from the Fujifilm GFX100 and Fujifilm X-Pro3, which enjoyed "solid sales".
The sales were solid for FUJIFILM GFX100, a mirrorless digital camera equipped with a large format sensor with the world's highest 102 million pixels resolution, and FUJIFILM X-Pro3, a flagship model of the X series launched in November 2019.

In the Imaging Solutions segment, though revenue decreased compared to the previous fiscal year, and operating income also decreased compared to the previous fiscal year due to such factors as a decline in revenue and effect of exchange rate.
Down below you can see the summary of the report as well as screenshots.
Report Summary