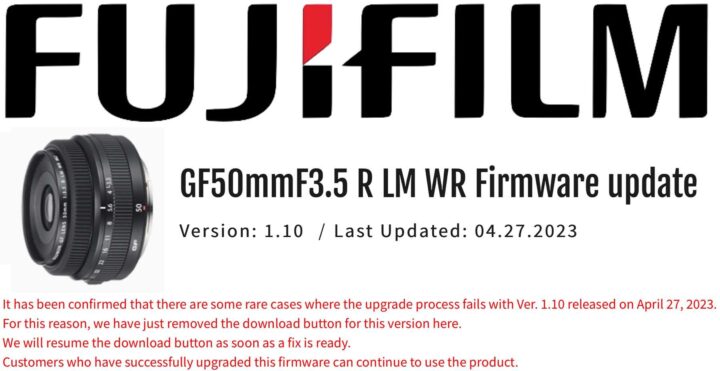 Suspended Firmware
Back on April 27, Fujifilm released firmware updates for lots X and GFX lenses (plus some cameras).
Among them there was firmware 1.10 for the Fujinon GF50mmF3.5 with some welcome improvements.
However, at some point Fujifilm removed the firmware and said:
It has been confirmed that there are some rare cases where the upgrade process fails with Ver. 1.10 released on April 27, 2023. For this reason, we have just removed the download button for this version here. We will resume the download button as soon as a fix is ready.

Customers who have successfully upgraded this firmware can continue to use the product.
Since then, nothing happened and the firmware is still suspended.
As an owner of the Fujinon GF50mmF3.5 myself, I just share this friendly reminder to Fujifilm that there is this suspended firmware and that we would really appreciate if they'd fix it… just in case Fuji forgot about it.
Fujifilm Facebook Groups