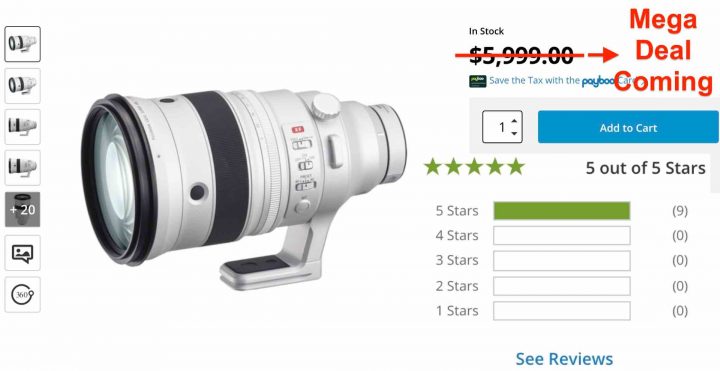 The Mega Deals
Fujifilm Europe launched an absolutely stunning deal on the Fujinon XF200mmF2 with a €2,000 discount, as well as huge deals on other lenses.
I have been now told (thanks), that similar deals will start also in USA. The deals will include a massive rebate on the XF200mmF2, too.
I don't know if also the Fujifilm X-T4 will be included, but the fact that there is a first $100 rebate popping up on the X-T4 body only, might indicate that the X-T4 will be included.
XF200mmF2 – Fit for Fujifilm X-H2
When Fujifilm developed the Fujinon XF200mmF2, they indication to engineers was simple: achieve best image quality, no matter what!
And I can tell you from my own experience with this lens, that you'll get a ridiculous sharpness out of it. So now wonder it gets only 5 star ratings!
The XF200mmF2 is clearly underperforming on current Fujifilm cameras, and once the high resolution Fujifilm X-H2 drops on the market in 2022, it will finally unlock its full potential.
Considering the image quality and the fact that it comes with a newly designed 1.4x teleconverter, I always thought that 6K is actually a fair price for how it performs. And soon, with such a big rebate, I definitely call it a steal.
The Ridiculous Thing is…
Ok, so Fujifilm is going to drop a massive deal on the Fujinon XF200mmF2 all over the world.
But the ridiculous thing is that Fujifilm is launching a massive rebate on a lens, the XF200mmF2, that right now is mostly out of stock.
I mean, I'd understand if they'd launched a deal on a lens that is getting dust in the warehouses and they can't get rid of. But adding a huge rebate on a lens that clearly is short on stock, well, I am afraid that will lead to biblical waiting times for those, who order it.
So, in any case, if you are interested in one, definitely order quickly as soon as the deals are available. At the moment there are some availabe at BHphoto here and one single sample at AmazonUS here.
EUROPE X/GFX DEALS
X Gear – ends June 30
GFX Gear – ends June 30